WINSTON-SALEM, NC (SEPTEMBER 28, 2021)—In conjunction with the celebration of the 250th anniversary of the founding of Salem Academy and College, alumnae, staff, and friends will recreate the historic journey that resulted in the institution's founding in 1772.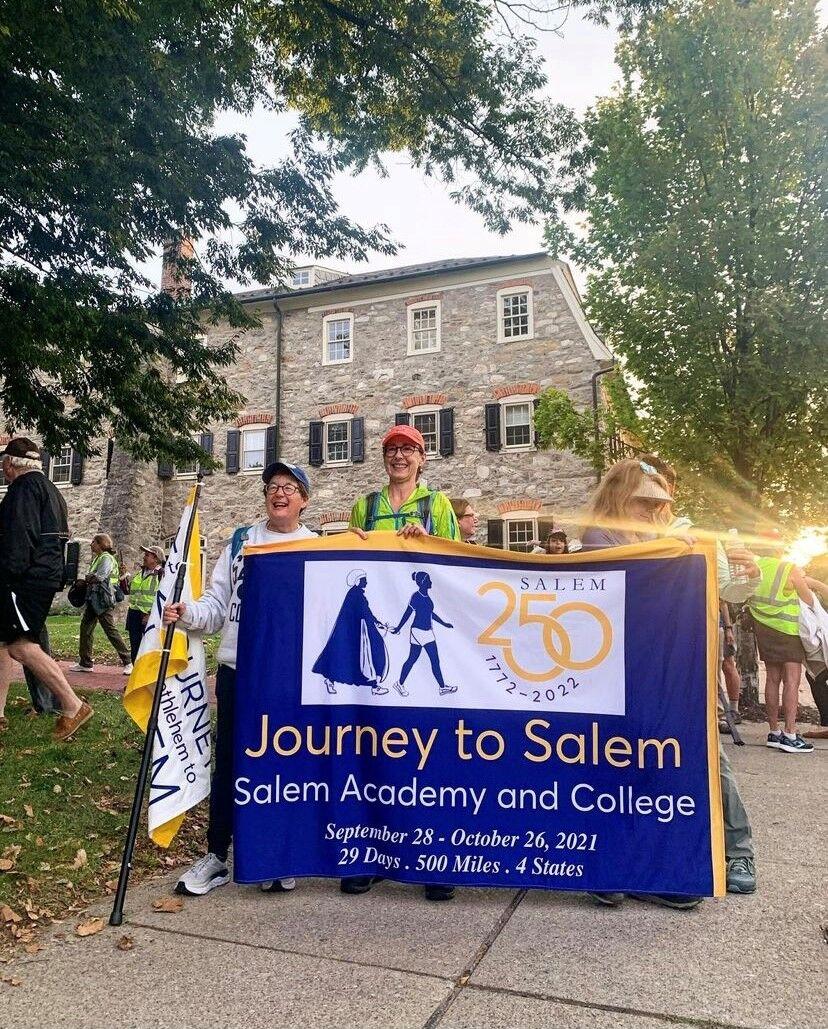 This journey was undertaken by 19 Moravians (including 12 young girls aged 13 to 17 and four Single Sisters) who traveled from Bethlehem Pennsylvania to Bethabara, North Carolina in 1766. After completing their remarkable journey, two of the Sisters, Elisabeth Oesterlein and Salome Meurer, became the first teachers in the new girls' school created in 1772 that is now known as Salem Academy and College.
The 2021 Journey from Bethlehem to Salem will take place from September 28 to October 26, 2021 and will cover 500 miles over 29 days following the route outlined in the 1766 journal of Salome Meurer. The Journey will begin in Bethlehem, Pennsylvania on September 28 and will follow the colonial migration trail, which passes through Maryland, continues east of the mountains in Virginia, and turns west in Hillsborough, North Carolina. Walkers will arrive in Bethabara, North Carolina, the Sisters' original destination, on October 25. The final leg of the Journey will be 6.5 miles from Bethabara to a celebratory Homecoming, open to all, on Salem Square in Old Salem on the afternoon of October 26.
Alumnae and friends will be participating in the "Journey to Salem" in person or virtually. Some will walk for a day, or several days.  Four intrepid alumnae, "The Fearless Four," will walk the entire 29 days. On average, participants will walk 20 miles per day.
Salem Academy and College will provide daily updates via social media and the Salem Academy and College websites, highlighting entries in Salome Meurer's journal, the individuals who were in the 1766 party, and the social, historical, and geographical context of the journey. 
About Salem Academy and College's 250th Anniversary Celebration
In 1772, Salem Academy and College was founded on the revolutionary idea that girls and women deserve a rigorous education to prepare them to lead the way for a better world. Over the last 250 years, Salem has built upon this foundation and pushed boundaries for women, empowering them to be leaders by preparing girls and women from all around the world to effect change, shatter expectations, and lead through the challenges and triumphs of their times.
During the 2021–22 school year, Salem will celebrate its 250th anniversary, a formidable achievement in the history of American education. Established even before the signing of the Declaration of Independence, Salem has pushed boundaries for women at every juncture, enabling them to live their lives in ways that catalyze positive change.The public is invited to help Salem celebrate this milestone. More than two years in the planning, Salem's 250th anniversary series of events honors the institution's history and points proudly to its next bright horizon as a preeminent school for girls and the nation's only college dedicated to elevating and expanding the role of women in health leadership. To see a complete list of events visit 250.salem.edu.
About Salem Academy and College
Salem Academy and College is the oldest continuously operating educational institution for girls and women in the country by its founding date of 1772.  The institution is currently celebrating its 250th anniversary and is engaging in transformational change to innovate in women's education. Salem Academy is a college preparatory school located on a diverse, active college campus focused on preparing young women for careers in STEAM. Salem College is the nation's only liberal arts college dedicated to developing the next generation of women leaders in health. Salem Academy and College is located in Winston Salem, North Carolina, a vibrant college town known for arts and innovation.
For more information about Salem Academy, please visit salemacademy.com. For more information about Salem College, please visit salem.edu.