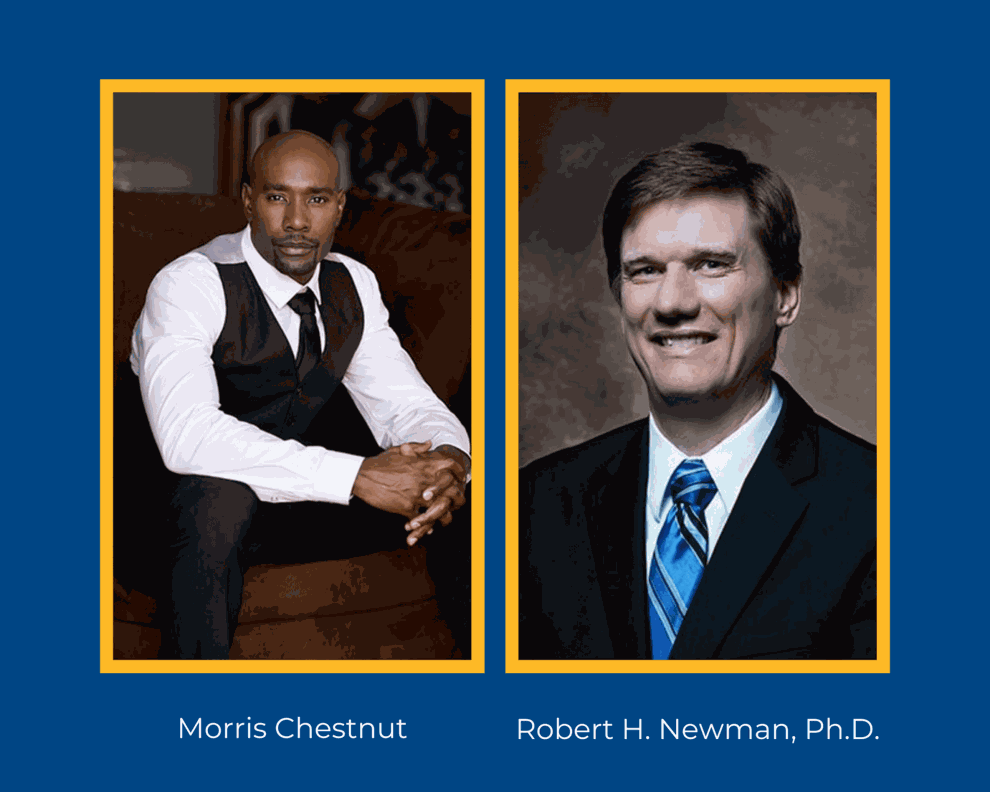 Newman, Chestnut to Serve as N.C. A&T Spring 2023 Commencement Speakers
EAST GREENSBORO, N.C. (March 14, 2026) – Two highly regarded leaders in their fields – North Carolina Agricultural and Technical State University Nathan F. Simms Distinguished Professor in the Department of Biology Robert H. Newman, Ph.D., and NAACP Image Award-winning actor Morris Chestnut – will serve as Spring 2023 Commencement keynote speakers, university officials announced today.
"Dr. Newman and Mr. Chestnut have made tremendously positive impacts in their professions and are certain to inspire our Spring 2023 commencement audiences," said Chancellor Harold L. Martin Sr. "We welcome the perspectives they will share with our Aggie community as we celebrate the achievements of our newest Aggie graduates."
Newman is the keynote speaker for the graduate student ceremony Friday, May 12, at 3 p.m. in Novant Health Fieldhouse at Greensboro Coliseum.
Since joining the N.C. A&T College of Science and Technology (COST) faculty in 2012, Newman has been awarded more than $15 million in extramural research funding from the National Institutes of Health (NIH), the National Science Foundation (NSF), and the Department of Defense (DoD), including R01 and SC1 awards from the NIH and a Center for Excellence in Biotechnology award from the DoD. He is also actively involved in graduate and undergraduate research training, serving as the lead principal investigator (PI) of the NSF-sponsored Research Experiences for Undergraduate in Synthetic Biology at A&T for the past four years and as a PI on the NIH-sponsored Enhancing Science, Technology, Engineering, and Mathematics Educational Diversity undergraduate research training program.
To date, Newman has published more than 30 peer-reviewed articles and mentored 70 undergraduate students, 25 graduate students and five postdoctoral fellows. Many of his undergraduate and graduate students have gone on to pursue Ph.D. degrees and postdoctoral training at some of the nation's leading institutions, including Johns Hopkins University, the University of North Carolina at Chapel Hill, the University of Virginia, Washington University in St. Louis, and Wake Forest University.
Among the many accolades Newman has garnered for teaching and research are the N.C. A&T Outstanding Young Investigator Award and the Junior Faculty Teaching Excellence Award in 2016. Last year, he received the UNC Board of Governors' Award for Excellence in Teaching, which recognizes the extraordinary contributions of faculty members across the UNC System.
Newman received his B.A. in biology and biochemistry from McDaniel College in 1999 before earning his Ph.D. in biochemistry and molecular biology from the Johns Hopkins University Bloomberg School of Public Health in 2006. He conducted postdoctoral research in the Department of Pharmacology and Molecular Sciences in the Johns Hopkins University School of Medicine, where he examined the organization and regulation of cellular phosphorylation networks using a combination of live cell imaging and functional protein microarrays.
Chestnut is the keynote speaker for the baccalaureate student ceremonies in Greensboro Coliseum on Saturday, May 13, at 8:30 a.m. for the College of Agriculture and Environmental Sciences, College of Arts, Humanities and Social Sciences, Willie A. Deese College of Business and Economics and College of Education and 3 p.m. for the College of Engineering, John R. and Kathy R. Hairston College of Health and Human Sciences and COST.
Having enjoyed tremendous success as a film and television star for more than two decades, Chestnut is best known for his memorable roles in "Boyz in the Hood," "The Brothers," "The Perfect Holiday," "Think Like a Man," as well as the commercially and critically acclaimed "The Best Man" and its successful sequel, "The Best Man Holiday." The latter, in which he reprised his role as Lance and received an NAACP Image Award nomination in the category of "Outstanding Actor in a Motion Picture," opened with $17 million during its first weekend, the fifth-largest opening for an R-rated romantic comedy, the second-highest opening for an urban romantic comedy, and the sixth-biggest opening for an urban-themed film overall.
Chestnut is a cast member of the current Fox drama, "The Resident" as Dr. Barrett Cain, an intimidating neurosurgeon who believes himself to be a superman physician. He previously starred as Dr. Beaumont Rosewood in the Fox series "Rosewood," a drama centered on a pathologist who teams up with the Miami police to help solve the city's most challenging cases. He received his fourth NAACP Image Award nomination in the category of "Outstanding Actor in a Drama Series" for his performance.
Among Chestnut's television credits are roles on the TNT show "Legends," FX's first season of "American Horror Story," Amazon's "Goliath" and Showtime's critically acclaimed series "Nurse Jackie," which earned him the 2014 NAACP Image Award in the category of "Outstanding Supporting Actor in a Comedy Series" for his performance as Dr. Ike Prentiss.
Nearly 1,500 undergraduate, more than 300 master's and almost 60 doctoral students – as well as about 50 students from the Joint Programs in Social Work with the University of North Carolina-Greensboro – will participate during the ceremonies, which will be livestreamed.
About North Carolina A&T State University
North Carolina Agricultural and Technical State University is the nation's largest historically Black university, as well as its top ranked (Money magazine, Best Colleges). It is a land-grant, doctoral university, classified as "high research" by the Carnegie Foundation and a constituent member of the University of North Carolina System. A&T is known for its leadership in producing graduates in engineering, agriculture and other STEM fields. The university was founded in 1891 and is located in Greensboro, North Carolina.