The Quaker religion openly believes that no man – or woman – should be a slave. Their involvement in freeing slaves has been estensively documented. At least one Jamestown family, the Mendenhalls, played a large part in that freedom. Shawn Rogers, director of the Mendenhall Homeplace, gave a virtual presentation for the High Point Museum on March 16 outlining how the Mendenhall family worked to abolish slavery.
TOP PHOTO - Richard Mendenhall's home on West Main Street in Jamestown. Photo courtesy Historic Jamestown SocietY
For many years, beginning in 1808, the North Carolina Society of Friends, as Quakers are also known, was one of the largest slaveholders in the area. Many enslaved people became the "property" of the Friends after members transferred ownership of their slaves to local meetings. These slaves could not be sold. The meetings rationalized ownership by claiming to protect the slave, allowing them to live and work as freedmen.
"From 1777 to the end of the Civil War it was illegal to free, or manumit, enslaved people within North Carolina," Rogers said. "The main reason for that is the threat to the institution of slavery in this area. Slaveowners were threatened by the prospect of having free formerly enslaved people living near their slaves. They were worried about insurrection, worried about the influence they would have on their 'property.'"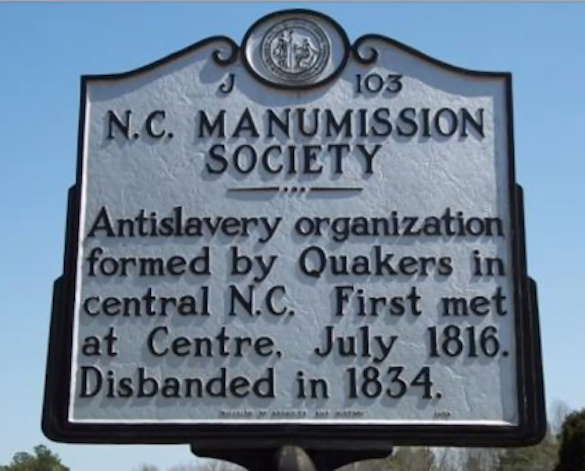 He said that there were permits available to free slaves but these were very expensive.
While helping slaves escape was illegal, a group called the North Carolina Manumission Society worked through legal means to the same end. The purpose of the Manumission Society was to abolish slavery. It was formed by Quakers in July 1816 because of the laws that made it difficult to manumit enslaved individuals. It met at Centre Friends Meeting on Hwy. 62 in Guilford County.
The group also advocated recolonization of willing slaves to places like Liberia and Haiti. The word "manumission" comes from Latin, meaning "to send away from the hand." Slave owners, however, had to voluntarily free their slaves. No slaves could be taken from their owner. The slaves also had to be willing to leave.
Richard Mendenhall of Jamestown (1778-1851) was a co-founder member of the Manumission Society and was later state president. It was noted that he had the best attendance at the meetings which were held alternately at Deep River Friends and Centre Friends in Randolph County.
Existing records of the Manumission Society of North Carolina (mostly papers of Richard Mendenhall) speak of the group's concern of emancipation of slaves and emigration of free blacks and include correspondence arranging for the voyage.
The manumission movement dwindled after 1830 and the last North Carolina meeting was in 1834.
For many years, rumors have circulated that Mendenhall's home in Jamestown was used as a stop on the Underground Railroad, but Rogers said there is "no concrete evidence" that this occurred.
However, Rogers pointed out a half door on the second floor at the Richard Mendenhall house leading to porch roof rafters that was similar to a description given of another house where slaves were hidden. The porch was once covered by bead board and the rafters floored.
"Do we know this was used in the Underground Railroad? No we don't, but it's one of those intriguing things we sometimes happen upon," Rogers said, noting Mendenhall's obituary noted his home had been a safe haven for many people regardless of their legal status. "It really makes you wonder."
Rogers added there also were rumors Richard's son Nereus (1818-1893), once president of what is today Guilford College, harbored slaves at his home known as The Oaks, but nothing has been proven. This house will soon be demolished.
Although not used by the Mendenhall family, the Historic Jamestown Society is caretaker of a false-bottom wagon known to have been used to transport slaves to freedom. It was owned by Abigail and Joshua Stanley and donated to HJS by the Morrow family. As it was common to see teenagers transporting goods, teens Isaac Stanley and Andrew Murrow drove the wagon, visibly laden with straw and pottery, to a location in the North. Unseen and hidden in a secret compartment were slaves seeking their freedom.
The only other false-bottom wagon known to have been used in the Underground Railroad is at the Levi Coffin home in Indiana. Coffin was known as the "president of the Underground Railroad."
Richard's younger brother, George Cameron Mendenhall (1798-1860) married a women, Eliza Dunn, who owned 40 slaves, which she had inherited as a two-year-old child. But Eliza was against slavery.
"She drew up drafts to petition Montgomery County to have standing as a minor so she could free slaves she had inherited," Rogers said. Eliza had not yet reached adulthood.
After Eliza died following childbirth, George married Delphina Gardner, a staunch abolitionist, as was George.
"A lot of people gave her credit for persuading George to free many of the enslaved individuals," Rogers said, but noted George and his first wife Eliza had been working to free these people for years.
The couple trained their slaves in trades to earn passage to the North and to be able to support a family. Since George practiced law, he and Delphina went about legally procuring the freedom. They even took some of the slaves North themselves.
Other members of the Mendenhall family also participated in manumitting enslaved people. But not all
Richard Mendenhall's house still stands at 603 W. Main Street in Jamestown. It is open for tours. Visit the website at www.mendenhallhomeplace.com.