HPU Staff Members Receive Kahn Family Extraordinary Staff Awards
HIGH POINT, N.C., Nov. 17, 2022 – Three High Point University staff members were recently awarded the annual Kenneth F. and Jana S. Kahn Extraordinary Staff Award for their service to students and families of the university.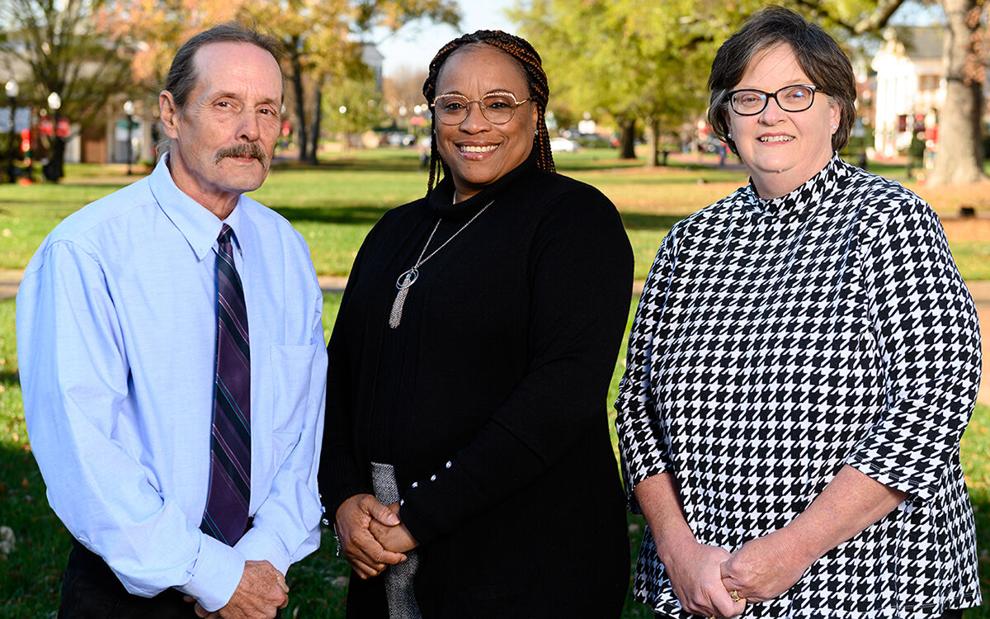 The award recipients, Sandra Norris, Rebecca Smoak and Patrick Wishon, each received $5,000 funded by the Kahn family endowment.
The Kahn family and University Business Magazine of Palm Beach Gardens, Florida, established the awards in 2018 to honor HPU employees who provide dedicated service to the campus community and live out the university's mission to provide students with an extraordinary education in an inspiring environment with caring people.
"High Point University is like a jigsaw puzzle, and every one of us owns one of those pieces of the puzzle," said HPU President Dr. Nido R. Qubein, who presented the awards to each recipient on stage during a campus-wide staff meeting. "If you keep your piece of the puzzle off the board, it's an incomplete puzzle. We need every person to ensure this is a university where every student receives an extraordinary education in an inspiring environment with caring people."
Chris Dudley, senior vice president of development, said more than 40 staff members were nominated for the awards this year through emails sent to faculty, staff and students. He introduced Norris, senior associate director of student financial planning, as a staff member who best represents the caring people part of the puzzle made up of HPU employees.
"This award winner won't surprise anybody because she has been extraordinary for so long and done it so well," Dudley said. "She always works at 110% to ensure that our students are prepared to start at HPU with as little financial worry as possible. She provides life skills rather than hand holding. She teaches students about the process of applying for grants and scholarships. She works with student accounts, admissions, student life and the business office to assist incoming students who may need a little extra guidance to fund their college education."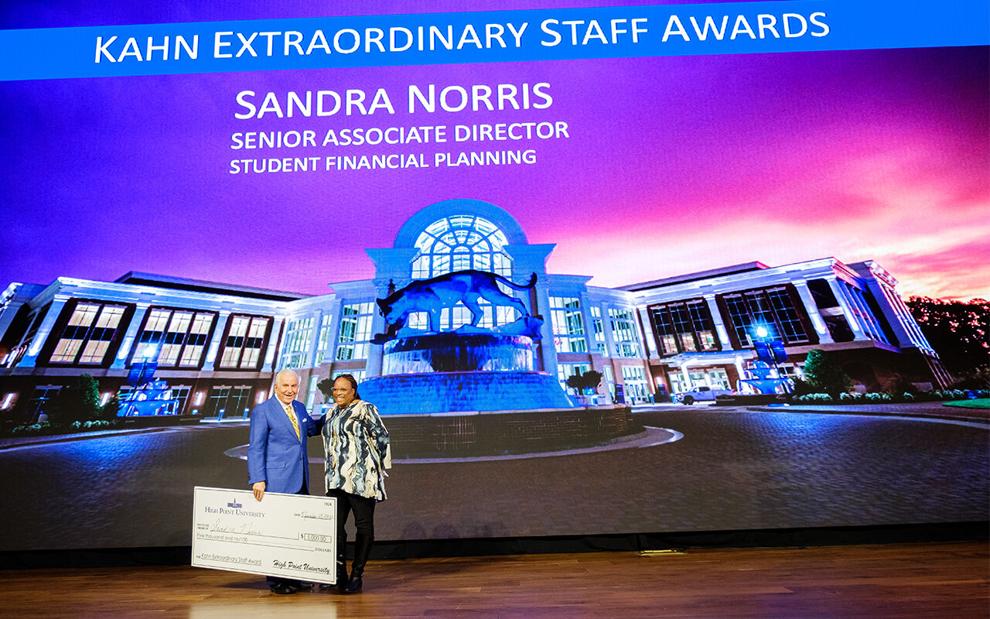 Norris fought tears as she accepted an oversized check.
"To have anybody think that highly of me and pick me out of all the wonderful people who work at High Point University is priceless," said Norris. "I thank whoever thought I was worthy of this. To the family who is donating this and making this possible to acknowledge us for what we do, God bless them. I thank them, and I am forever indebted and grateful to them for this gift because it means the world to me. I will continue to do all that I do at High Point University and let everyone know that HPU is the place to be."   
Co-workers of Smoak, administrative assistant in the Wanek School of Natural Sciences, described her as the glue that holds their academic team together, Dudley said. She is competent, dependable, thinks about others constantly and works to make sure everyone's courses run smoothly, Dudley said. After receiving the award, Smoak said she was stunned to have been nominated by faculty and staff.
"We are a family and to have their love and support on a daily basis is just incredible," said Smoak. "The faculty make it easy. Just to have their respect is incredible." 
Smoak's husband Terry said he got a call the week prior to the award from one of her colleagues, who told him it would be a surprise announcement. "She was so complimentary of the job she does, and she said 'always,'" Terry Smoak said.
Dudley recognized Wishon, a Campus Enhancement team member, as a vital part of maintaining its inspiring environment.
"This gentleman goes to great lengths to make sure that things look perfect," said Dudley. "He ensures that our guests, students, faculty and staff enjoy the wow of our campus. Not only does he do his job well, but he's an incredible brand ambassador. When new students and family members are on campus, this award recipient stops and greets them, gives them directions, answers questions and is a wonderful representative of our university."    
Wishon told Qubein he may use his winnings to buy a car.
"They say it's a thankless job, but I get thanks every day from students and everyone," said Wishon. "It brightens my day and makes me feel good that I'm doing something good and that they appreciate the appearance of the campus. I'm an enemy of weeds in the flowerbeds, and I keep it cleaned up."
Ken Kahn graduated from Cornell University with a bachelor's degree and from Harvard University with a law degree. He is president of LRP Media Group, a multimillion-dollar global media company serving education and business professionals, which he started in 1997. In 2018, LRP acquired University Business, a multimedia resource that provides cutting-edge coverage of education news, technology, academics, facilities management, security, financial services, policy, profiles and opinion. He serves on various boards, including the HPU Board of Trustees, and has been honored by many business and civic organizations for his involvement. He was recognized by "Florida Trend" magazine's annual "Florida 500" as one of the most influential business leaders in the state.
Jana Shellington Kahn graduated magna cum laude from Temple University with a bachelor of business administration in human resources and management. She currently serves as chief marketing officer with LRP Media Group. The Kahns have shown philanthropic support of the university in other ways, including the Jana and Ken Kahn Hotel, a 30-room boutique hotel at the Nido and Mariana Qubein Arena and Conference Center last opened in 2021.   
At High Point University, every student receives an extraordinary education in an inspiring environment with caring people.® HPU, located in the Piedmont Triad region of North Carolina, is a liberal arts institution with 6,000 undergraduate and graduate students. U.S. News & World Report has ranked HPU the No. 1 Best Regional College in the South for 11 consecutive years and the No. 1 Most Innovative Regional College in the South for eight consecutive years. The Princeton Review named HPU in the 2023 edition of "The Best 388 Colleges" and on the Best Southeastern Colleges "2023 Best Colleges: Region by Region" list. HPU was also recognized among the Top 20 in the nation for Best-Run Colleges, Best Career Services, Most Beautiful Campus, Most Active Student Government Association, Best College Dorms and Best Campus Food, as well as a Great School for Business/Finance Majors and a Great School for Communication Majors. For 12 years in a row, HPU has been named a College of Distinction with special recognition for career development, business and education programs. The university has 64 undergraduate majors, 66 undergraduate minors and 19 graduate degree programs. It is a member of the NCAA, Division I and the Big South Conference. Visit High Point University on the web at highpoint.edu.