HIGH POINT, N.C., June 3, 2021 – Throughout the pastyear, the High Point University AmeriCorps VISTAs (Volunteers in Service to America) have been working hard across the City of High Point. The eight individuals have completed a variety of tasks to help better the High Point community.
TOP PHOTO - Food Access VISTA Wilson Haworth delivering grocery bags purchased by the Greater High Point Food Alliance to a community partner.  
The VISTAs' projects focus on education and food security. The VISTAs completed everything from fundraising, recruiting and managing volunteers, writing grants, conducting research and planning and organizing events. They have worked with numerous organizations and groups including Guilford County Schools (primarily High Point schools), Communities in Schools, Growing High Point, the Greater High Point Food Alliance, D-UP, YMCA, YWCA, the City of High Point along with many others. 
This year's VISTAs are Wilson Haworth, Natalie Ward, Kayla Quick, Aliyah Suggs, Jenny Carpenter, Casey Tyndall and Avery Moon.  
"I have loved being a VISTA," says High Point native Quick, HPU Class of 2020. "I've cultivated skills like project management and curriculum development and gained experience in volunteer management and networking. My favorite part has been the connections I've made and the impact those connections have had for me personally and for my hometown. Being a VISTA is a unique position for community work and utilizes my education and experience to create the largest impact for the City of High Point and High Point University."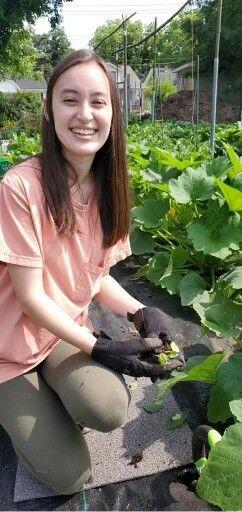 In the midst of COVID, the VISTAs recruited 1,202 volunteers to work with High Point nonprofits. They managed 684 volunteers. The VISTAs helped nonprofits raise $327,359 in grants and donations and also obtained $97,786 in in-kind donations for their nonprofit partners.
The VISTAs spent 2,253 hours doing community outreach on behalf of nonprofits, 1,004 hours of volunteer management, 1,176 hours of resource development, 479 hours of grant writing and 940 hours of resource mapping.
At High Point University, every student receives an extraordinary education in an inspiring environment with caring people.® HPU, located in the Piedmont Triad region of North Carolina, is a liberal arts institution with 5,600 undergraduate and graduate students. It is ranked No. 1 by U.S. News and World Report for Best Regional Colleges in the South and No. 1 for Most Innovative Regional Colleges in the South. The Princeton Review named HPU in the 2021 edition of "The Best 386 Colleges" and on the Best Southeastern Colleges "2021 Best Colleges: Region by Region" list. HPU was recognized as a Great School for Business Majors and a Great School for Communication Majors. HPU was also recognized for Best College Dorms (No. 1), Most Beautiful Campus (No. 9), Best Career Services (No. 19) and Most Active Student Government (No. 19). For 10 years in a row, HPU has been named a College of Distinction with special recognition for career development, business and education programs, and The National Council on Teacher Quality ranks HPU's elementary education program as one of the best in the nation. The university has 60 undergraduate majors, 63 undergraduate minors and 14 graduate degree programs. It is a member of the NCAA, Division I and the Big South Conference. Visit High Point University on the web at highpoint.edu.