HIGH POINT, N.C., March 4, 2021 – High Point University has honored two longtime university administrators, who recently retired, with emeritus status in recognition of their impactful years of service. HPU has named Dr. Dennis Carroll as Provost Emeritus and will award him with an honorary doctorate degree in recognition of his years of service. HPU has also named Dr. Carole Stoneking as Emeritus Dean of the David R. Hayworth College of Arts and Sciences.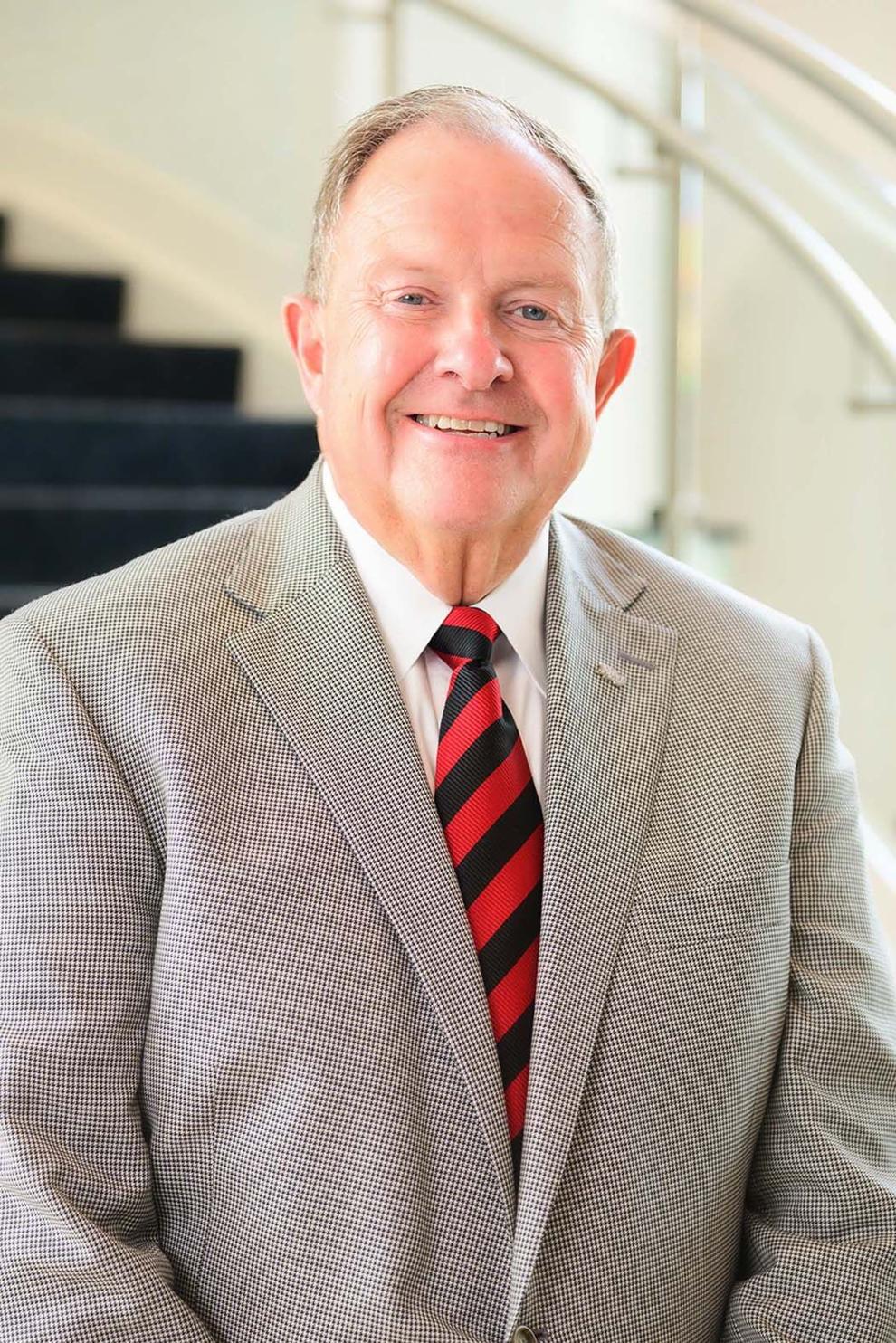 Carroll came to HPU in 1988 to serve as the chair of the Education Department and director of Teacher Education. He led the efforts for HPU to receive NCATE accreditation in 1992. Carroll was named dean of the Stout School of Education in 1998, and then was named Provost in 2005 until his retirement in spring 2020.
During his time at HPU, Carroll helped establish the Nido R. Qubein School of Communication; the School of Art and Design; the David R. Hayworth College of Arts and Sciences; the Fred Wilson School of Pharmacy; the Congdon School of Health Sciences; the Wanek School of Natural Sciences; and the Webb School of Engineering. He assisted deans in the accreditation of programs that require license to practice in physical therapy, physician assistant studies, pharmacy, athletic training, interior design and education.
Carroll oversaw various expansions that include library resources for doctoral studies and health sciences, registrar services, and advising services such as Student Success Coaches, Learning Excellence and tutoring. He assisted in the creation of "May Term," which created more opportunities for study abroad and independent research. He also oversaw the creation of summer research programs.
"I am honored to have been named Provost Emeritus of High Point University," says Carroll. "I was given the remarkable opportunity to build the academic program of this great institution. We were able to assemble outstanding deans, dedicated and talented faculty and staff, and to create a community of scholars and thinkers. The university's achieving doctoral granting status was a dream-come-true for me. Witnessing both our undergraduate and graduate faculty make significance contributions to their professions – and working for the common good of all citizens – truly highlighted my tenure at HPU. Nothing is more important in the academy than a church-related, liberal arts education that fosters values, ethical behavior and life-long learning. High Point University reflects this commitment. It has been my honor to serve."
Stoneking came to HPU in 1991 to serve as assistant professor of religion. She was appointed chair of the Department of Religion and Philosophy in 2001, and dean of the David R. Hayworth College of Arts and Sciences in 2006 until her retirement in spring 2020. During her tenure as dean, Stoneking oversaw significant changes in curriculum, including the expansion of existing programs and the development of interdisciplinary initiatives such as musical theatre, forensic science, Latin American studies, East Asian studies, women and gender studies and environmental studies.
She led the search for founding deans of the Nido R. Qubein School of Communication; School of Art and Design; Wanek School of Natural Sciences; Congdon School of Health Sciences; and Webb School of Engineering. She identified and hired a consultant for pharmacy, eventually leading to the establishment of the Fred Wilson School of Pharmacy.
Stoneking oversaw the development and the establishment of free-standing departments of computer science, sociology and anthropology, and political science. She also oversaw the developments of new major programs including communication, graphic design, biochemistry, neuroscience, and statistics and data analytics.
Stoneking also helped develop, expand and create programs including the Honors Scholar Program, the Honors Faculty in Residence Program, the Service Learning and Civic Engagement Program, the Bonner Scholar Program, the Fellows programs, the Think BIG program and the Office of Fellowships and Awards.
"As I reflect back upon my tenure at High Point University, I hope that at the end of the day my work be defined not just by growth, expansion and change, but by our collective commitment to the historical affiliation and mission of the university," said Stoneking. "It was my privilege to serve with educators, scholars and administrators who were willing not only to think rigorously, but to act faithfully. I am deeply honored to be granted emeritus status."
At High Point University, every student receives an extraordinary education in an inspiring environment with caring people.® HPU, located in the Piedmont Triad region of North Carolina, is a liberal arts institution with 5,600 undergraduate and graduate students. It is ranked No. 1 by U.S. News and World Report for Best Regional Colleges in the South and No. 1 for Most Innovative Regional Colleges in the South. The Princeton Review named HPU in the 2021 edition of "The Best 386 Colleges" and on the Best Southeastern Colleges "2021 Best Colleges: Region by Region" list. HPU was recognized as a Great School for Business Majors and a Great School for Communication Majors. HPU was also recognized for Best College Dorms (No. 1), Most Beautiful Campus (No. 9), Best Career Services (No. 19) and Most Active Student Government (No. 19). For 10 years in a row, HPU has been named a College of Distinction with special recognition for career development, business and education programs, and The National Council on Teacher Quality ranks HPU's elementary education program as one of the best in the nation. The university has 60 undergraduate majors, 63 undergraduate minors and 14 graduate degree programs. It is a member of the NCAA, Division I and the Big South Conference. Visit High Point University on the web at highpoint.edu.