HPU President Dr. Nido Qubein honored by N.C. Association of Broadcasters
HIGH POINT, N.C., Oct. 5, 2022 – High Point University President Dr. Nido R. Qubein was awarded the Wade H. Hargrove Community Leadership Award by the North Carolina Association of Broadcasters at its 2022 Awards Lunch on Sept. 28, at the Angus Barn in Raleigh. It is one of the highest awards presented by NCAB and honors North Carolinians who have distinguished themselves with service to our local communities.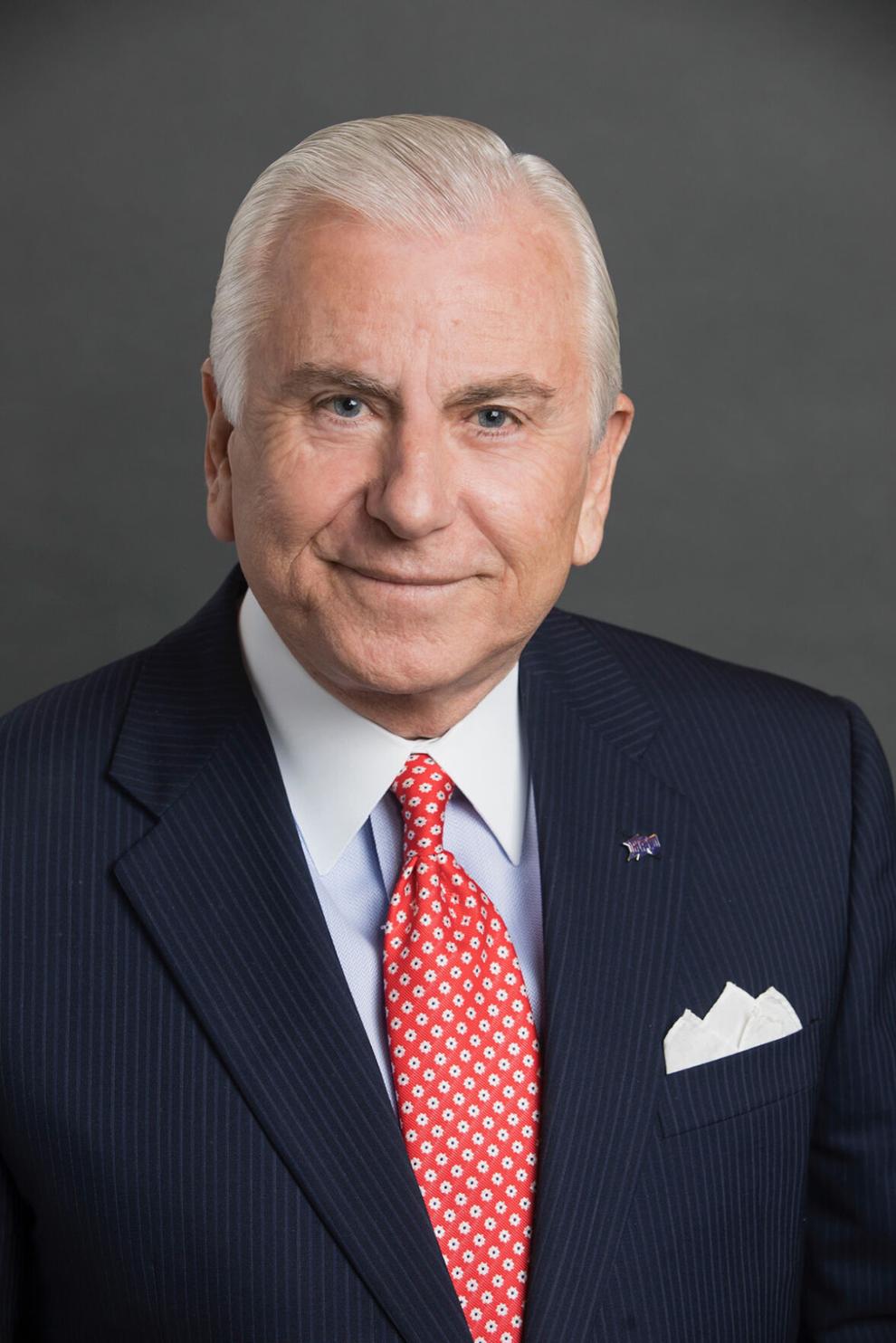 NCAB Board President Michelle Butt, president and general manager of WXII-12 in Winston-Salem, North Carolina, described Qubein's work as HPU president as "a national leader in higher education." As the Premiere Life Skills University, HPU's undergraduate students and graduates learn capabilities that extend beyond technical skills and they blossom into employees, neighbors and global citizens who can communicate, build relationships and thrive in all environments, Butt said.
"Dr. Qubein's transformative vision of what a university can mean and what it can do in the community has helped revitalize the footprint of a town hit hard by the loss of manufacturing jobs," said Butt. "The literal growth of High Point University has influenced the Greater High Point and Triad region. It has created new, better-paying jobs for hundreds of families. His legacy will outlive what Dr. Qubein does in his tenure, and that is the embodiment of what the community leadership award means."
President Qubein has been honored with numerous awards from local, national and international organizations throughout his lifetime. He is a member of the Piedmont Triad Partnership executive committee, which focuses on industry recruitment and job creation. He has previously chaired the Economic Development Corporation in High Point and the High Point Chamber of Commerce. 
He is inducted into the Horatio Alger Association for Distinguished Americans, along with Oprah Winfrey and Colin Powell. He is also the recipient of the DAR Americanism Award and, along with four U.S. presidents, the recipient of the Ellis Island Medal of Honor. Qubein has also been recognized as both the Citizen of the Year and Philanthropist of the Year in his home city of High Point. He was named the Honorary Chairman for the internationally recognized PGA Wyndham Championship.
"My heart is filled with gratitude for your consideration of me as a recipient of this award," said Qubein. "You may know I came to America way back in the late '60s and I landed in Mount Olive, North Carolina. I lived there until I transferred to High Point College, and I've been in High Point all these many years. My work took me across the world and across the country from border to border and coast to coast. But I always came back to my home right here in North Carolina. I'm proud to be a North Carolinian."
Since he became leader of his alma mater in 2005, enrollment has grown to 6,000 total undergraduate and graduate students from 1,673 students. The campus size also increased from 91 acres to 520 acres and the number of buildings rose from 28 to 288. The number of academic schools is continuing to expand with announcements of the Workman School of Dentistry along with schools of law, nursing, optometry and entrepreneurship to provide more graduate-level degrees. The addition of these schools will bring HPU to 14 academic schools, up from just three in 2005.
Prior to his role as HPU president, Qubein rose in prominence as an internationally known author and consultant. He has served on the corporate boards of several Fortune 500 companies including Truist, the sixth largest bank in the nation, La-Z-Boy and Savista. He also served as executive chairman of the Great Harvest Bread Company. Business North Carolina recently recognized Qubein as one of North Carolina's most influential leaders in its 2022 Power List. The magazine noted Qubein led a $3 billion mega transformation at HPU. In addition to the new academic schools, the current $400 million investment in construction projects includes the Charman Library; Panther Commons with suites for undergraduate and graduate students; more than 30 new student homes and an enclosed parking garage with 1,200 spaces. 
Qubein said he was proud to be associated with NCAB and grateful to partner with PBSNC that airs Side by Side with Nido Qubein at 7 p.m. each Tuesday after PBS Newshour.  
Photos: 1) High Point University President Dr. Nido R. Qubein was awarded the Wade H. Hargrove Community Leadership Award by the North Carolina Association of Broadcasters at its 2022 Awards Lunch on Sept. 28. 
At High Point University, every student receives an extraordinary education in an inspiring environment with caring people.® HPU, located in the Piedmont Triad region of North Carolina, is a liberal arts institution with 6,000 undergraduate and graduate students. U.S. News & World Report has ranked HPU the No. 1 Best Regional College in the South for 11 consecutive years and the No. 1 Most Innovative Regional College in the South for eight consecutive years. The Princeton Review named HPU in the 2023 edition of "The Best 388 Colleges" and on the Best Southeastern Colleges "2023 Best Colleges: Region by Region" list. HPU was also recognized among the Top 20 in the nation for Best-Run Colleges, Best Career Services, Most Beautiful Campus, Most Active Student Government Association, Best College Dorms and Best Campus Food, as well as a Great School for Business/Finance Majors and a Great School for Communication Majors. For 12 years in a row, HPU has been named a College of Distinction with special recognition for career development, business and education programs. The university has 64 undergraduate majors, 66 undergraduate minors and 19 graduate degree programs. It is a member of the NCAA, Division I and the Big South Conference. Visit High Point University on the web at highpoint.edu.