HIGH POINT, N.C., Nov. 13, 2020 – High Point University has earned a "Gold" designation from the American Heart Association's 2020 Workplace Health Achievement.
TOP PHOTO: High Point University has earned a "Gold" designation from the American Heart Association's 2020 Workplace Health Achievement.
The American Heart Association's Workplace Health Achievement Index allows organizations to qualify for bronze, silver or gold level recognition based on their total Index score. The framework of the Workplace Health Achievement Index was built so that organizations would continue to strive to improve the health of their workplace and their workforce from one year to the next.
HPU's Employee Wellness Program is open to all staff and faculty, who can earn points for completing various wellness activities offered on campus. They have access to free annual health screenings, health seminars, an employee 5K run, intramural sports teams and a fitness facility. The program also provides resources to encourage healthy approaches to nutrition, stress, sleep and weight management.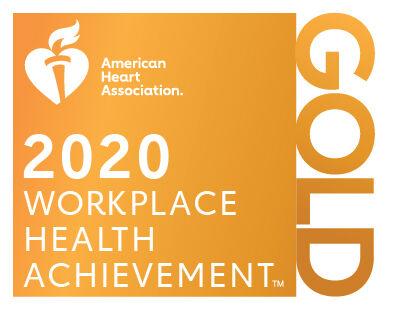 Melissa Marion, employee wellness director at HPU, says that in addition to their physical health, the university supports employees in building their emotional, social, intellectual, spiritual and occupational well-being. For example, meditation and gratitude are two of the program's challenges during the year. During the global pandemic, HPU has worked with its vendors to provide opportunities for employees to exercise at home, assistance with mental health support, health coaching, monthly challenges designed to improve social and mental well-being, and weekly tool kits that provide opportunities to meditate, take a virtual yoga class and utilize a parenting corner.
"HPU's health and well-being programming provides a foundation for our employees so that they can have the energy and mental ability to serve our students and overcome the barriers that we face during this global pandemic," says Marion.
At High Point University, every student receives an extraordinary education in an inspiring environment with caring people.® HPU, located in the Piedmont Triad region of North Carolina, is a liberal arts institution with 5,600 undergraduate and graduate students. It is ranked No. 1 by U.S. News and World Report for Best Regional Colleges in the South and No. 1 for Most Innovative Regional Colleges in the South. The Princeton Review named HPU in the 2021 edition of "The Best 386 Colleges" and on the Best Southeastern Colleges "2021 Best Colleges: Region by Region" list. HPU was recognized as a Great School for Business Majors and a Great School for Communication Majors. HPU was also recognized for Best College Dorms (No. 1), Most Beautiful Campus (No. 9), Best Career Services (No. 19) and Most Active Student Government (No. 19). For 10 years in a row, HPU has been named a College of Distinction with special recognition for career development, business and education programs, and The National Council on Teacher Quality ranks HPU's elementary education program as one of the best in the nation. The university has 60 undergraduate majors, 63 undergraduate minors and 14 graduate degree programs. It is a member of the NCAA, Division I and the Big South Conference. Visit High Point University on the web at highpoint.edu.