History in the Making at Triad Health Project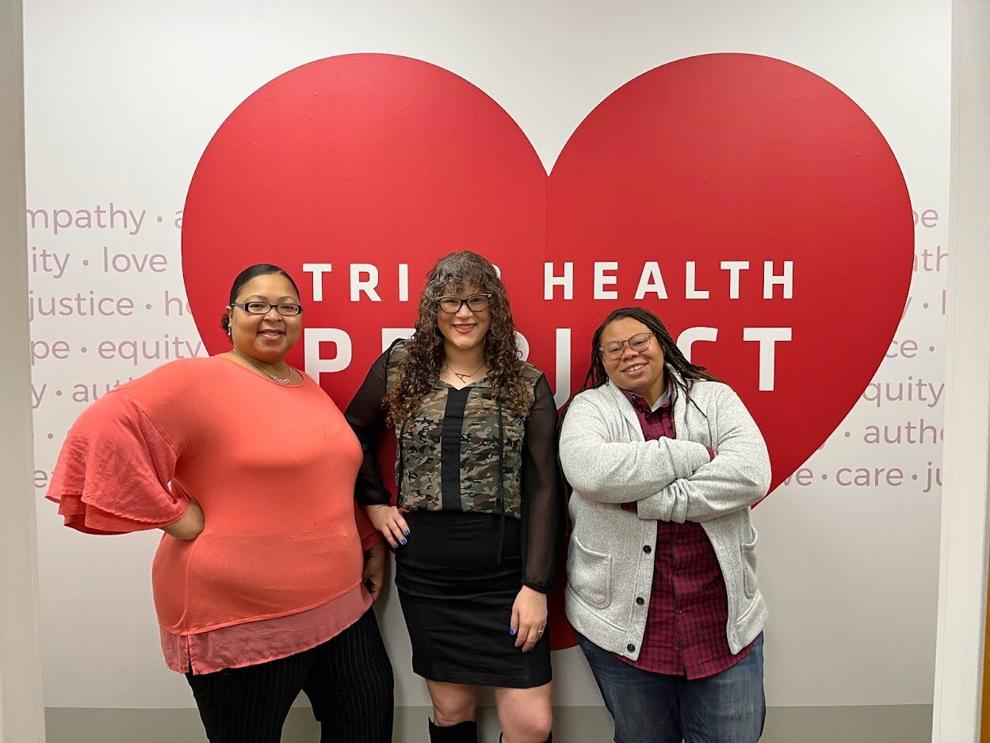 Guilford County—For Triad Health Project, Women's History Month is starting off with not just a bang, but an explosion, as three women of color step into leadership roles for the nonprofit organization.
"It is an exciting time to be a part of the Triad Health Project team," said Adriana Galdo Adams, the newly named Interim Executive Director.
Adams, who had most recently been serving as Triad Health Project's Associate Director, is a Greensboro native and passionate about serving her community. She has a rich background in local nonprofit work and also currently serves as FaithAction International House's board chair.
Said Adams of her work, "I am passionate about people and about justice. I want to see that those in the margins of the margins are granted access to the basic human dignity they deserve, that they are worthy of. That is the work of Triad Health Project."
Founded in 1986 in the midst of our nation's AIDS crisis, Triad Health Project is a local nonprofit that promotes sexual health and justice through radical care, love, and equity while working to free our community from HIV, its stigma, and root causes.
"Equity is in our mission statement", said Adams, "and we aren't just using it as a buzzword. You are looking at two black women and a Latina stepping into these roles not by accident, but because of intentional work that has been done to recognize that our nonprofit staff and board must represent the communities we serve."
Jessika (Jay) Blue and Camille Hester join Adams in this historic moment for Triad Health Project as they assume roles as Triad Health Project's Board Chair and as leader of Triad Health Project's beloved day center for those living with HIV, Higher Ground.
"This house has been so important to so many," said Camille Hester. "I am grateful to put my MSW to good use and continue the legacy of providing a space of radical hospitality and care in our community." Hester has been working with Triad Health Project as a case manager since fall of 2021 and will continue that work on location at Higher Ground, expertise incoming board chair and fellow social worker Jay Blue is thankful for.
"For me, being the Board Chair of Triad Health Project isn't about stepping into a position of power or notoriety" said Jay Blue, "it's about being able to connect with the staff and community and use my knowledge as a social worker to partner with Adriana and lead this agency well."
Triad Health Project is the only agency in Guilford County providing comprehensive services to those in our community living with, at risk for, or impacted by the HIV epidemic. Most recent statistics tell us that accounts for nearly 2,600 people in our county. Most at risk for new infections are people of color.
"This is vital work that is essential to our community. We know there are people who haven't been reached yet and who are at risk. If we are to truly reach the populations most highly impacted by HIV, we must be close enough to hear their voices. It is not enough to create community advisory boards whose voices can easily be ignored by decision makers. People of color and people living with HIV must be employed by this agency at our highest levels of leadership and sitting on our board" said Adams.
"We have heard a lot of cries for equity in our community in the past several years", said Jay Blue, "it is my hope that as Triad Health Project takes this step toward equity, promoting women of color in leadership, that we would see our community gather around us in support in this historic moment."
Triad Health Project will be launching its spring fundraising appeal at the end of March. To support Triad Health Project visit www.triadhealthproject.org/donate/ or call 336-275-1654 for more information.