The facility will be completed in 2024 during HPU's Centennial Anniversary.
HIGH POINT, N.C., Feb. 16, 2021 – As High Point University's transformational growth plan continues, HPU announces construction plans for a new $80 million library that will provide ample study space for students and house a new Admissions Center.
TOP PHOTO - The front entrance of High Point University's future library is featured in the first artistic rendering. The 150,000-square-foot library is expected to be completed by 2024, which will be HPU's 100th anniversary.
The facility is expected to be completed in 2024, which will be HPU's 100th anniversary.
The four-story facility will provide 150,000 square feet of textbooks, digital databases, private study space, and an art gallery featuring historical artifacts and displays of HPU's expanding collection of artwork provided through the generosity of donors. It will feature the Library of Congress Classification System and become the main library on campus, supplemented by several existing satellite libraries across campus.
The Admissions Center will be housed in the facility to welcome the thousands of prospective students and their families who visit HPU throughout the year for campus visits, admissions events and scholarship interviews.
This new facility is part of HPU's next $1 billion, 10-year growth plan that HPU President Nido Qubein announced in September 2019, which includes $300 million in new construction and $700 million in scholarships focused on first generation students, diversity, academic excellence and veterans. It will be housed beside Hayworth Park and supported by institutional surpluses.
A new Welcome Center at Panther Drive and additional development along this portion of campus is taking place in conjunction with the Nido and Mariana Qubein Arena and Conference Center and the adjoining Kahn Hotel. The development in this part of campus will provide a welcoming thoroughfare for visitors to the arena, conference center, hotel or admissions center.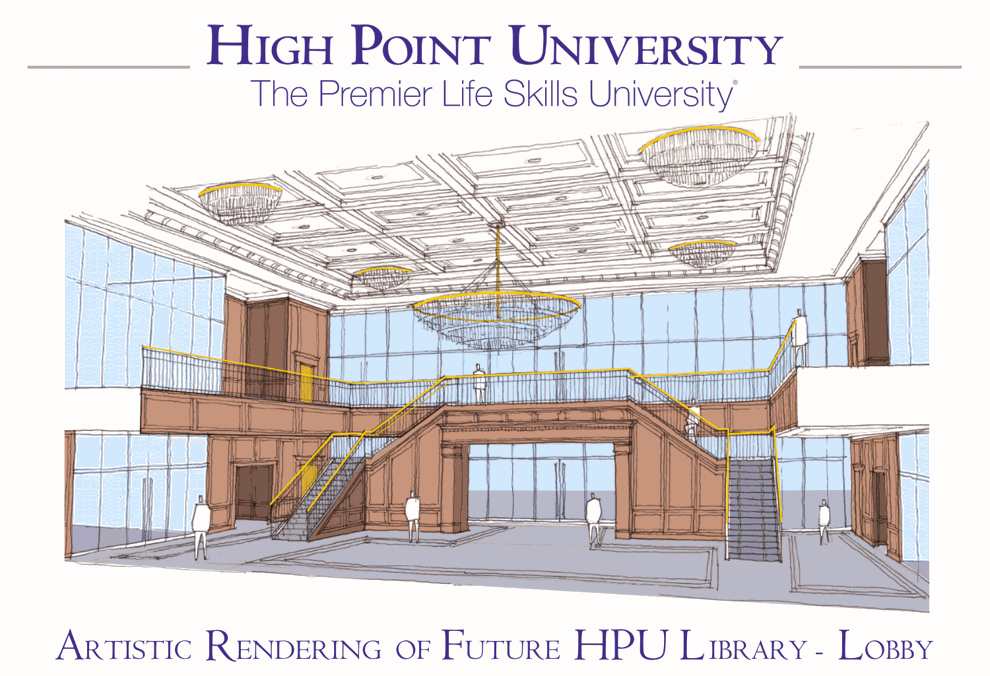 At High Point University, every student receives an extraordinary education in an inspiring environment with caring people.® HPU, located in the Piedmont Triad region of North Carolina, is a liberal arts institution with 5,600 undergraduate and graduate students. It is ranked No. 1 by U.S. News and World Report for Best Regional Colleges in the South and No. 1 for Most Innovative Regional Colleges in the South. The Princeton Review named HPU in the 2021 edition of "The Best 386 Colleges" and on the Best Southeastern Colleges "2021 Best Colleges: Region by Region" list. HPU was recognized as a Great School for Business Majors and a Great School for Communication Majors. HPU was also recognized for Best College Dorms (No. 1), Most Beautiful Campus (No. 9), Best Career Services (No. 19) and Most Active Student Government (No. 19). For 10 years in a row, HPU has been named a College of Distinction with special recognition for career development, business and education programs, and The National Council on Teacher Quality ranks HPU's elementary education program as one of the best in the nation. The university has 60 undergraduate majors, 63 undergraduate minors and 14 graduate degree programs. It is a member of the NCAA, Division I and the Big South Conference. Visit High Point University on the web at highpoint.edu.