Welcome to our favorite issue of the year, The Triad's Best! As many of you may know, this is our biggest issue all year, and something we spend several months working on. This year, exactly 166,410 votes were cast by nearly 30,000 people—setting a new record for participation! People from all over North America, Europe, Asia, and even as far as Australia made their voices heard by choosing all of their Triad favorites.
Even though the year 2020 has been anything but predictable, we implore you to take a break from anxiety-inducing headlines and the constant feeling of impending doom brought on by the COVID-19 pandemic and the 2020 election year to celebrate the winners and runners-up of the Triad's Best readers' poll.
While you'll see familiar winners, we hope this issue will be an opportunity for you to discover many newcomers who have won some of the top awards. The way we listed everyone this year is pretty simple: There are "first-place winners," "second-place winners," and "runners-up." As voting was fierce and highly competitive, you will see additional runners-up listed. This was done due to the closeness of the vote counts, and in some cases, ties in the runner-up categories.
There are many people to thank for making this issue possible:
- To our readers, thank you for picking up our awesome paper, taking the time to vote, and offering your suggestions and ideas.
-To the winners and runners-up, congratulations to you and know that we are all so glad to have you and your business in the Triad. We could not do this without you, and we appreciate being a part of your growth and success!
– To Alex and Austin, the best design staff in the Triad! Thank you so much for your diligence and patience on this enormous issue.
-To the sales team, simple and sweet: you crushed it!
– To our writers and photographers, thank you so much for making it happen.
Please show your support and share photos of your favorite winners and runners-up on social media using the hashtag, #YESTriadsBest2020.
Triad's Best Visual Artist:
Antonina Whaples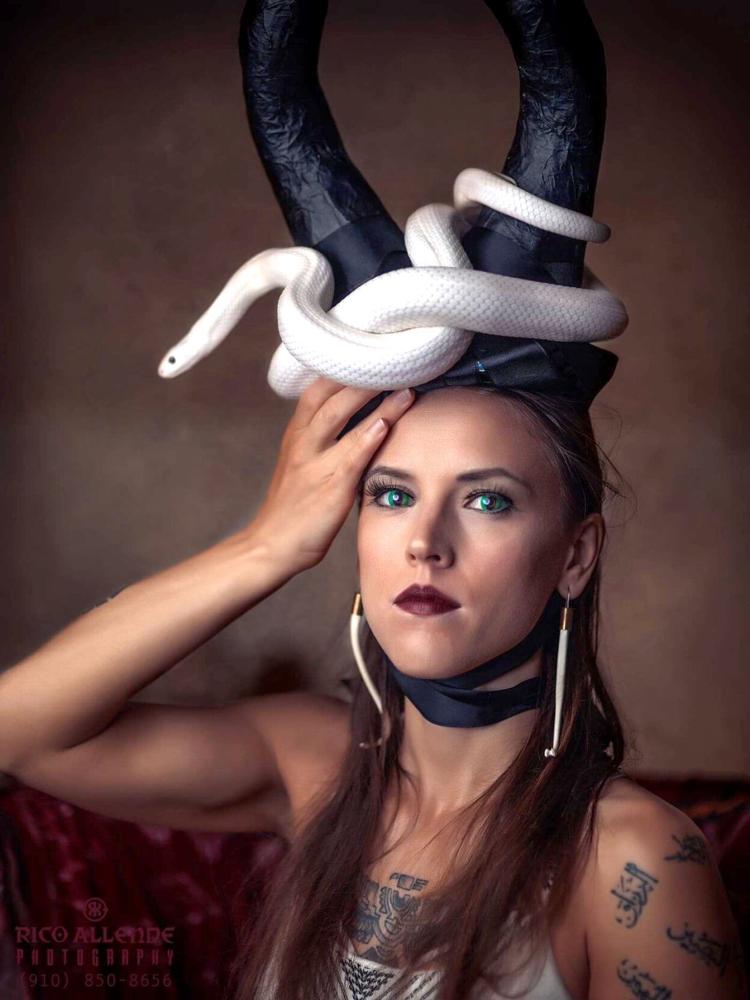 Photo by Rico Allende
It's been a  hard couple of years for the 2020 Triad's Best Visual Artist winner, Antonina Whaples. The Business 40 shutdown almost completely ruined her livelihood, her house flooded and was almost foreclosed on by the bank, and on top of all that, she was recovering from a traumatic brain injury. Strangely enough, the pandemic has caused her more relief instead of grief. 
"It's like I was where everyone is now emotionally and physically in relation to money and work last year." 
Whaples said she was classically trained to produce hyper-realistic images, but not her art medium is mainly mixed-media. She grew up in Winston-Salem, so winning this year's title of Best Visual Artist "feels like one of those important pieces of my puzzles."
"As an artist, to be named something like that in your hometown feels more special than some of these international awards that I have gotten," she said. "Especially since people voted for it, it has made me feel more affirmed."
In addition to being a visual artist, Whaples is the owner of Kindred Spirits on Trade Street, a Shaman, a published author, and a fashion designer. Last year, she gave half of her business to her shamanic apprentice, so that she could focus on creating art to sell at Kindred. The new book she just published is called Stone People: An Introduction to Stone Medicine, which she said is a descriptive book about "all the healing stones organized by the chakra system, and how to use them to heal yourself." Whaples also finished drawing her own 78-card tarot deck she calls the Piczanka Tarot Deck, which is set to be released this month.
"[Piczanka] was the name of the holocaust camp that my grandmother was interned in," she said. "So this deck is like a reflection and a message from those of us who have already conquered and lived through tragedy to others who are experiencing displacement in order to help them through their journey spiritually."
Her fashion line will drop on Sept. 26 during Winston-Salem Fashion Week.
"I'm excited because it is all up-cycled clothing that Goodwill sponsored, and all of the looks are representative of important cultural lineage, experiences, and the visual language of it," she said. "And the music recorded with the film is original music by myself."
At the end of the year, Whaples also has plans to release her "Introduction to Herbal Medicine" online program, which has been six years in the making.  
"Thank you for the much-needed recognition work, and for supporting me on my journal thus far," she said to those who voted for her as the Triad's Best Visual Artist.
Triad's Best Podcast: 
Zero Dark Nerdy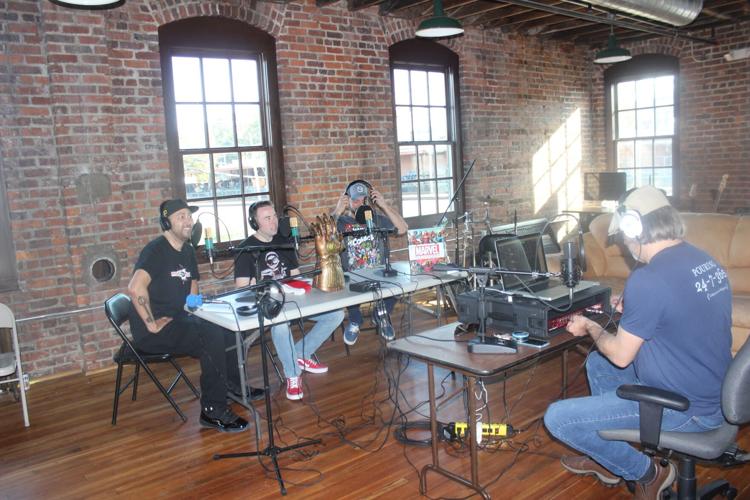 Ryan Saba AKA Captain Cleveland, Matthew Feliciano AKA Mateo, and Brian Hernandez AKA El Nino are three of the five hosts of Zero Dark Nerdy (formerly known as MultiPOPtural), a pop culture-centered podcast based in Greensboro. Now in its second year and third season, ZDN has garnered the attention of at least 10,000 listeners a month worldwide. ZDN is part of the Believe Podcast Network and publishes new episodes every Wednesday.
"It feels great, and it's been a culmination of two and a half years of hard work,"  Hernandez said of winning the 2020 Triad's Best Podcast. "It does feel great to get love from your hometown."
ZDN has come a long way from its humble beginnings, and it has adapted as more and more people started listening. For instance, all five hosts are not part of one episode; they each take turns so that the podcast is easier to follow and understand. 
"Aside from politics, the world is kind of making it easy for us," Feliciano said about the topics ZDN discusses on the pod. "We still form together like Voltron like the first time." 
Pre-COVID, ZDN were known all over town for their trivia nights and bar crawls—most notably their popular Game of Thrones-themed bar crawl last year. During COVID-19,  ZDN noticed a jump in its listenership. Saba said another benefit from the pandemic has been putting out episodes quicker and adding companion video content on different platforms, such as Facebook Live and YouTube, and reaching more listeners on multiple platforms. The downside of COVID has been conducting their episodes via Zoom, which they said isn't the same energy as when they are all in the same room together.
Coming up, in honor of the legendary Black Panther star, whose death from cancer shocked the world on Aug. 29, ZDN will be releasing a Chadwick Boseman tribute episode on Sept. 2 that would be hosted by Hernandez, Feliciano, and Saba with special guest Brad Lambert. For more information, visit the website or keep in the loop on social media.
Triad's Best Newcomer Drag Queen:
Brenda The Drag Queen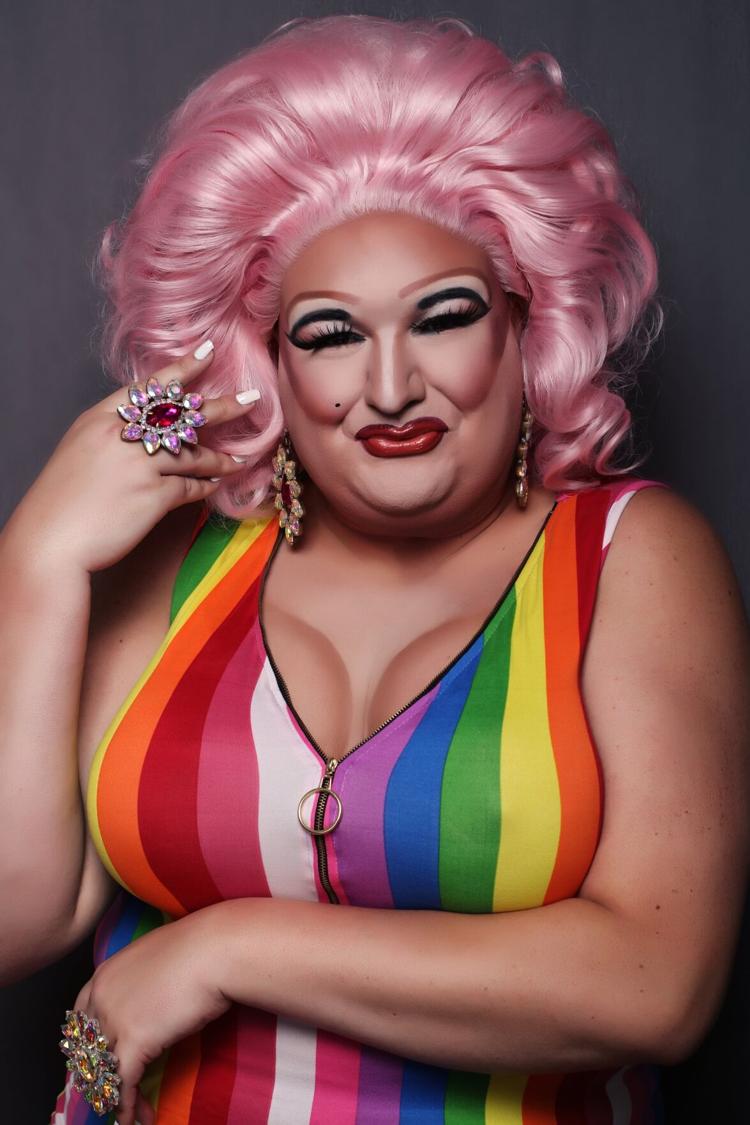 "It is exciting and I am thrilled," said Brenda The Drag Queen about winning the 2020 Triad's Best Newcomer Drag Queen title. Brenda the Drag Queen is not your typical disco dancing death-dropping diva—she's a "hot mess express in a dress" who loves a filthy parody "and ruining all of your favorite previously reverent songs." 
"I firmly believe that a drag queen is this magical creature and you should be able to give her a microphone and that is all that she needs," she said. Brenda has performed at Greensboro staples such as The Bearded Goat, Twist Lounge, and for the 2019 Greensboro Pride festival. Brenda said she also enjoys using her drag persona to give back. During the COVID-19 pandemic, she accidentally started her own digital drag show on Instagram Live which led to a charity event that raised $2,300 for about eight local entertainers who lost their primary source of income because of the pandemic.
After that, her digital shows took off, and once she realized that she had found her niche in the digital drag world, she started doing shows more frequently and "like every other homosexual," she ordered a ring light.
Sept. 4 at 7:30 p.m. on Facebook (@BrendaTheDragQueen), is the next Mother-Daughter Filthy Drag Comedy Show with surprise special guest Aunt Barbara. Follow Brenda The Drag Queen on Facebook and Instagram, and show her some love with a tip on Venmo: @brendathedragqueen or CashApp: $brendathedragqueen.
Triad's Best Drag King:
Andy Drodge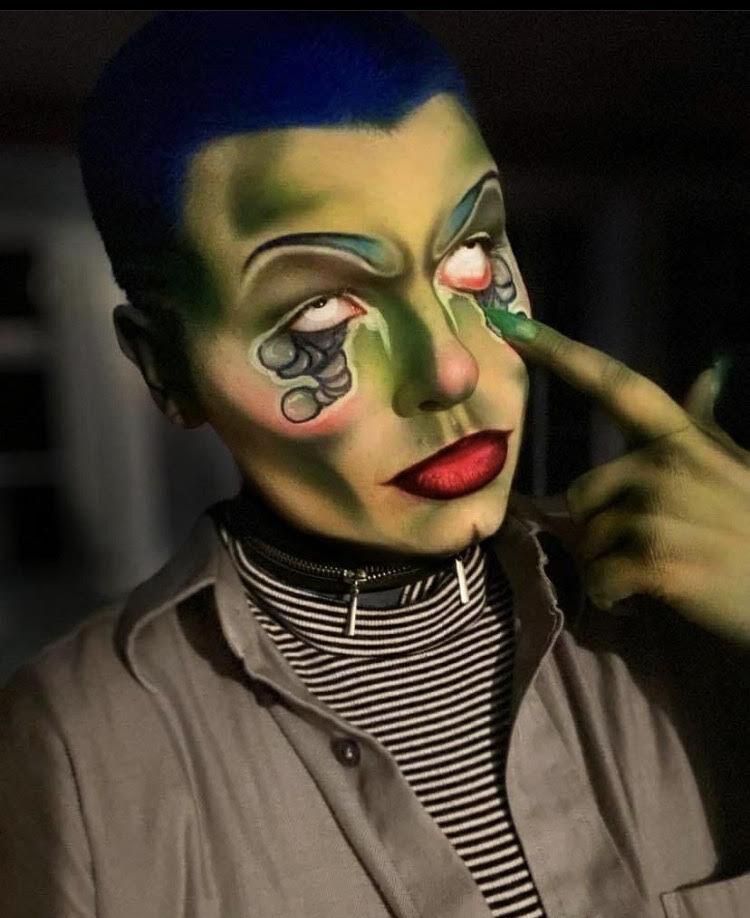 "It feels a little strange and exhilarating at the same time," said Andy Drodge, of winning the Triad's Best Drag King title. Drodge started doing drag five years ago. "When I found out there was a way to experiment with gender while expressing myself, I had to give it a try."
Drodge's drag persona can be described as a loud, in-your-face "banshee boy" that will either make you laugh or make you very scared.
During the COVID-19 pandemic, Drodge had to adapt to the digital drag. "One of the most important things in my performances is the interaction I have with an audience," they said. "So, not having that makes it very difficult to adapt. Luckily our community is very supportive and loving."
Drodge said the biggest reward of their drag career has been finding his chosen family and being able to express and explore their own identity through his art. 
"The biggest challenge I've faced would have to be overcoming the need to seek the approval of others," Drodge said. "As a king, I'm told that I will not succeed if I do not meet certain criteria that I must perform and look a certain way in order to be well-received. I have found that to be completely spurious. It wasn't until I started performing the numbers that I enjoy, and presenting myself in a way that I saw as cool that people started to take notice."
 To support Andy Drodge and their art, send him a virtual tip via Venmo:@andromeda_momo or CashApp:$andromedamomo.
Triad's Best Nonprofit:
Break The Chain Kennel Kru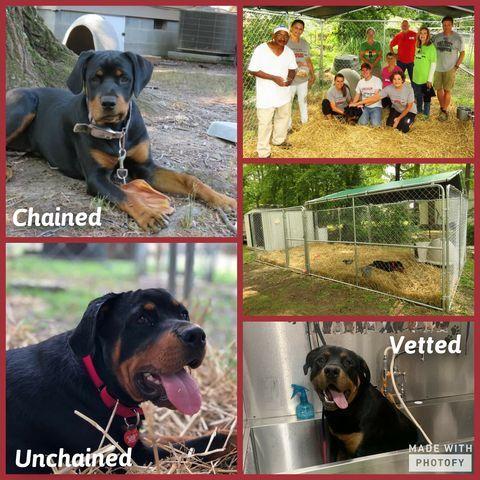 Break The Chain Kennel Kru is a four and a half-year-old endeavor that works in underserved communities assisting families with their dogs who live their lives chained up outside.  
"I am very honored," said Sylvia Mayon, the founder of BTCKK, when asked what it feels like to win the Triad's Best Nonprofit. "All nonprofits deserve recognition because we are all out there doing something to better our community." 
Mayon said she started BTCKK because when she was 7, her parents abandoned her, and it was traumatizing. She found solace in her first adopted dog, Kona, who was also abandoned.
"A lot of the families we serve come from a background like mine," she said. "My testimonial to them is, you are chaining the one thing that can fill the voids in your heart, that is always happy to see you, and always unconditional love."
Mayon said BTCKK provides and builds tethered outdoor dogs a 10-foot by 20-foot full kennel system to "break the chain" that tethers them in one spot for hours on end. For the 20 dogs BTCKK has served, the organization also makes sure they are fully vetted, and when the weather is unpredictable, the organization will board all of the dogs. Mayon said that typically, the organization would do one to two kennel builds a month; however, the COVID-19 pandemic has slowed its operations down. BTCKK has lost the ability to host fundraising events since March, and COVID made it hard for BTCKK to stay in touch with dog owners, which Mayon said is one of the most important parts of the mission.
"Pre-COVID, we would have four or five volunteers go on a straw delivery, and since COVID, I have had to do it with one or two people," Mayon said. "We aren't able to hang out with our owners like we are used to because our owners are disabled, elderly, and we want to be very mindful of them as well."
Mayon said without the help of her team, boarding partners, and donors, BTCKK would not be where it is today.
For more information about BTCKK and to donate, visit the nonprofit's Facebook page, @BTCKennelKru.  
To add the YES! Weekly Triad's Best badge to your website or social media, click here