The 12th Annual Uptowne High Point Holiday Stroll Sat., Dec. 4, 2021; 10:00 am to 4:00 pm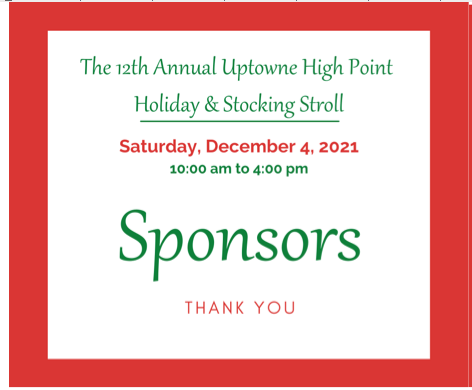 High Point, NC (November 16, 2021) – The 12th Annual Uptowne High Point Holiday Stroll will take place on Saturday, December 4, 2021 from 10 am to 4 pm. This holiday tradition takes place along Main Street between Ray and State Avenues.
The Holiday Stroll is presented by Uptowne High Point and Visit High Point with sponsorships from district businesses and organizations as well as residents.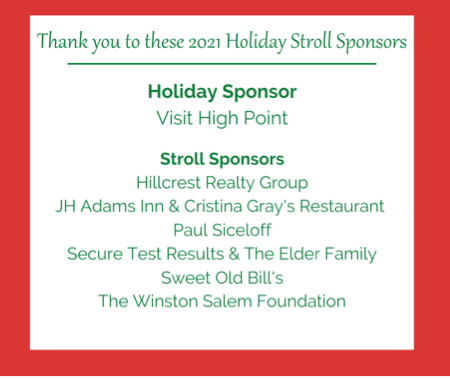 After missing an opportunity for an in-person event in 2020 due to Covid-19, the event returns to Uptowne High Point amidst much anticipation.
Puttin' on the Grits, a breakfast fundraiser for Community Clinic of High Point, kicks off the day at 8 am at St. Mary's Episcopal Church Community Center. The horses and riders of the Sedgefield Hunt Club parade up Main Street from the High Point Public Library to State Avenue and back by police escort.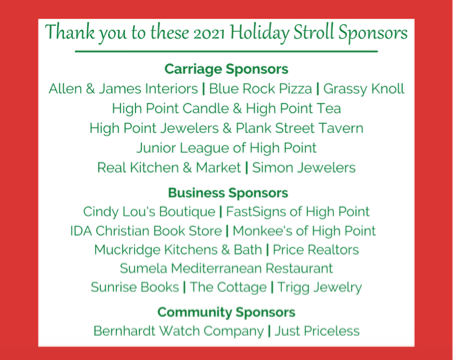 Churches (First Presbyterian Church and St. Mary's Episcopal Church) and historical homes (The Briles House, The Sherrod, Hillcrest Realty Group, Millis Square) host open houses with tours, refreshments, children's activities and music. The retail merchants also host open houses with sales, refreshments and prize drawings.
The Stocking Stroll component was added to the Holiday Stroll four years ago. This year 150 stockings, made exclusively for Uptowne by Relish Home, are available to purchase for $30 each. The purchasers bring those stockings to the Holiday Stroll on December 4 to fill them with free stocking stuffers by participating merchants. The stockings are available at ten of the Uptowne retail stores and a list of locations offering free stocking stuffers will be updated on the website and the Facebook Page. A portion of the proceeds from the sale of the stockings goes to the Kiwanis Club Christmas Cheer Fund.
Other highlights of the Holiday Stroll include, but are not limited to,
Carolers

Santa at the JH Adams Inn

Horse Carriage Rides (St. Mary's Church)

50+ Holiday Vendors (First Bank and High Point Public Library)

Food Trucks
The Holiday Stroll is free to attend. The only charge is for the Carriage Rides ($5 per person) and anything you buy or eat. This event appeals to all ages.
Uptowne High Point, Inc. is a non-profit organization representing the business and property owners of Uptowne High Point.
For more information, please consult: www.uptownehighpoint.org and Facebook https://www.facebook.com/uptownehighpoint . Events, schedules, sponsors and stocking stuffer merchants will be continuously updated through the event. 
QR Code to Events Page of Website: