SECCA Celebrates 65th Anniversary with Augmented Reality, Commemorative Merch, Instagram Stickers, and More
Colorful Illustrations Reference Notable Moments in SECCA History
(Winston-Salem, NC) – The Southeastern Center for Contemporary Art (SECCA) is proud to celebrate the organization's 65th anniversary with a colorful new campaign featuring an augmented reality experience, new merchandise, Instagram stickers, and more. The campaign comes on the heels of SECCA's 65th birthday celebration on Saturday, October 2 with musical performances by North Carolina folk luminaries Bowerbirds and Molly Sarlé.
SECCA's 65th anniversary campaign centers on a series of colorful illustrations inspired by notable moments in SECCA history, referencing alumni artists like Maya Lin, Mr. Imagination, William Wegman, recent exhibitor Jillian Mayer, and moments from deeper within the museum archives.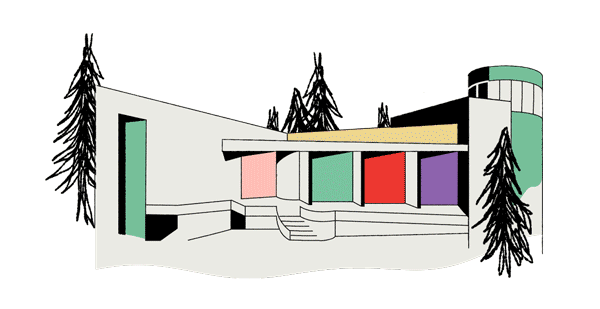 More than a dozen SECCA stickers are now available to add to Instagram stories. Find the stickers in the public GIPHY library under the hashtags #SECCA and #SECCAgram.
DIGITAL MEMORIES
The anniversary campaign marks SECCA's first foray into augmented reality, with a new experience available to explore via Adobe Aero. Viewable for free with iPhone, iPad and Android devices, the SECCA AR experience blurs the lines between our physical and digital worlds by overlaying colorful animations on top of the user's camera view. Users are invited to discover a vibrant landscape with familiar landmarks, sculptures, and friendly faces in the immersive 360° augmented reality experience.
Drawing inspiration from 65 years of history, the SECCA augmented reality experience is now available to explore for free on iPhone, iPad, and Android devices via Adobe Aero.
The Adobe Aero app is free to download, and the SECCA AR experience can be found at https://adobeaero.app.link/kY3vC8ND8jb.
Many of the elements found in the AR experience are available as Instagram stickers. Users can now add more than a dozen colorful SECCA animations to their Instagram stories, found in the public GIPHY library under the hashtags #SECCA and #SECCAgram.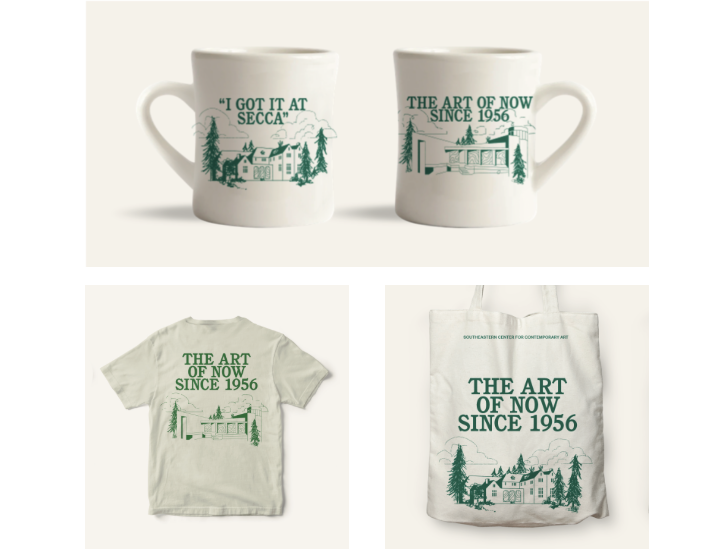 COMMEMORATIVE MERCHANDISE
SECCA's 65th anniversary has sparked new commemorative merchandise pieces, including a limited edition screen print poster and a special edition SECCA 65 Swag Bag.
Now available online with a $65 price tag, the SECCA 65 Swag Bag includes a limited edition t-shirt, coffee mug, tote bag, and temporary tattoos. Merch sales support exhibitions and programming at SECCA. The swag bag is only available for a limited time, with orders open through November 12.
Younger artists can also celebrate SECCA's anniversary with new coloring sheets, available to print at home and for free pickup at the front desk at SECCA's main entrance.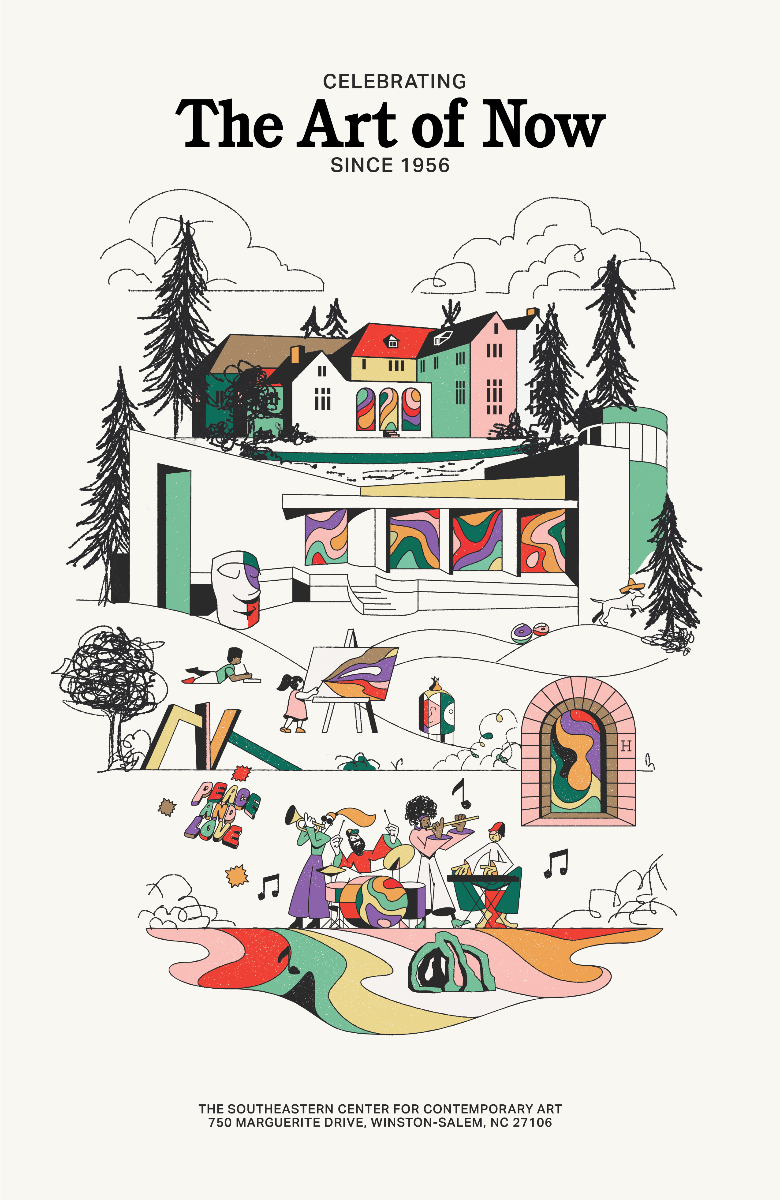 ABOUT SECCA
The Southeastern Center for Contemporary Art (SECCA), an affiliate of the North Carolina Museum of Art, offers a front row seat to the art of our time through exhibitions, experiences, and education programs with a focus on regional working artists. Founded in 1956 and located on the scenic James G. Hanes estate in Winston-Salem, SECCA offers unique large-scale indoor and outdoor settings for exploring the intersections of contemporary art and culture. Learn more at SECCA.org.
SECCA is a division of the NC Department of Natural & Cultural Resources. SECCA receives operational funding from The Arts Council of Winston-Salem and Forsyth County. Additional funding is provided by the James G. Hanes Memorial Fund.