GREENSBORO, NC (March 11, 2021) – The Downtown Greenway is pleased to invite the community to celebrate the opening of newly renovated LoFi Park on the Downtown Greenway Thurs., Mar.25, 2021 from 4:30-6:30 pm.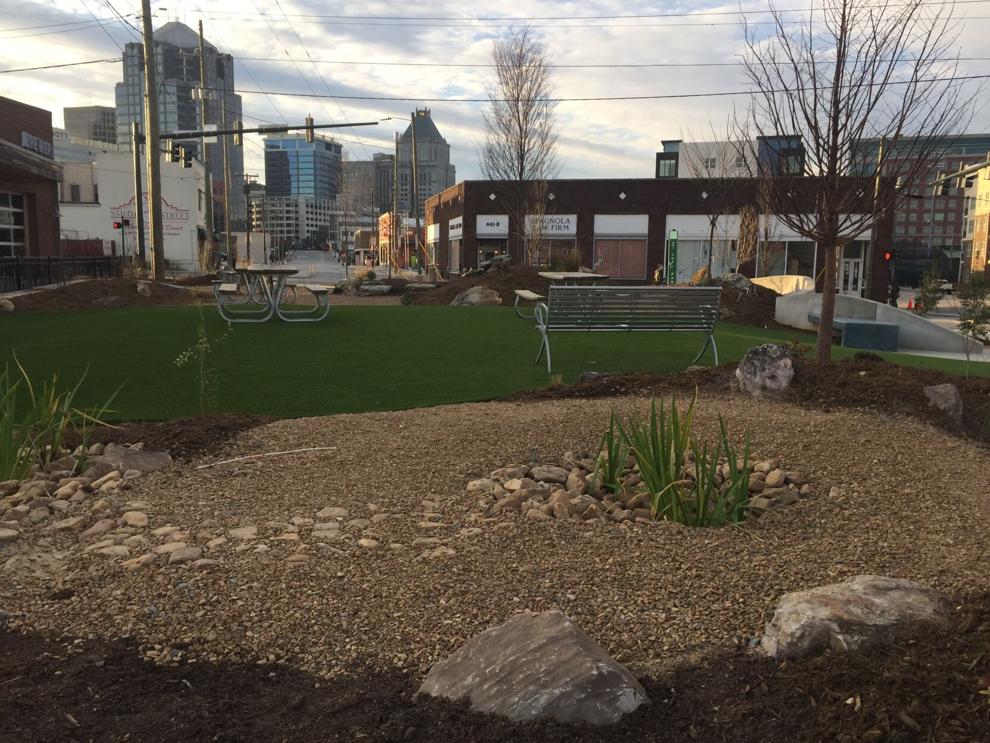 The community is encouraged to drop in between 4:30 and 6:30 for a variety of activities: 
 enjoy the new landscaping 
 meet permaculture garden designers, David Mudd and Justin Vettel 
 join Downtown Greenway donors and supporters in celebrating this new space 
 learn about upcoming construction along the Downtown Greenway 
 hear about the new Downtown Greenway Running and Walking Club 
 BYOB (BUY your own beer) at Joymongers and purchase dinner at Bandito Burrito food truck 
Permaculture gardeners David Mudd and Justin Vettel have reimagined this space with berms with boulders and new trees, a rain garden and an open artificial turf lawn space. They shared their approach in this way: 
We will approach this project as practical permaculture adherents— aiming to recognize and use to optimal effect resources already existing at the site, and freely available. We will look for ways to exploit the unfettered sunlight the site receives while also providing relief from it, in the spring and summer, for people, animals, and shade-loving plants. We will also look for ways to alter the site's topography, and to improve the quality of its soil; to promote absorption of rainwater. And we will favor trees, shrubs, plants and groundcovers that do more than just stay alive and look pretty. We will suggest nut- and fruit-producers, we will lean almost exclusively toward perennials, particularly those that attract pollinators and encourage soil health, and we will urge inclusion of native plants. Experience tells us these guideposts will help us arrive, naturally, at a design and plan for a re-designed park that looks and feels like the best of the North Carolina Piedmont: attractive, abundant, and welcoming. 
LoFi Park references its location between the historic Fisher Park neighborhood and Greensboro's center city, an area identified as Lower Fisher (LoFi). Located at 576 North Eugene Street, it sits in a hub of pedestrian and bicycle activity spurred by plans for and construction of the Downtown Greenway. What was once an area of closed businesses, abandoned buildings, and surface parking lots is now vibrant with apartment complexes (Greenway at Fisher Park and Stadium Park), restaurants and breweries (The Sage Mule, Machete, and Joymongers Brewing Company), and Deep Roots Market, Greensboro's first grocery store in downtown in over 30 years. 
About Downtown Greenway
The Downtown Greenway, a collaborative project of the City of Greensboro and ActionGreensboro,is a planned 4 mile walking and biking trail that will encourage economic development,increase the tax base for the city, and will improve quality of life for its citizens.This urbanloop around the centercity of downtown Greensboro will enhance the urban landscape with a greenspace that will promote fitness, connectedness and well-being for our residents and visitors in an aesthetically pleasing environment.The loop itself provides a unique opportunity for Greensboro to have the only one of its kind in the state and one of the few in the country.With its emphasis on public art, the Greenway will tell stories andengage users of the trail in a unique and authentic way. In addition,with the connections to the extensive existing and planned trails systems in the city and the county, this loop will connect residents from all parts of the community and beyond. With 3 miles built and open to the public,and the final mile to go under construction this fall,the Downtown Greenway is expected to be completed in2022/2023.
About Action Greensboro
Action Greensboro, together with the Chamber of Commerce, serves as the city's primary economic and community development group. Formed in 2001, Action Greensboro is comprised of six local charitable foundations. In collaboration with business, highereducation, and municipal government, Action Greensboro works to strengthen Greensboro'seconomy and ensure the continuation of its excellent quality of life.