GREENSBORO ⁠— Leadership Greensboro, a program of the Greensboro Chamber of Commerce, welcomes its 2022 class today and tomorrow for the program year kickoff.
A directory of the 45 participants ⁠— including their names, photos and companies ⁠— is below.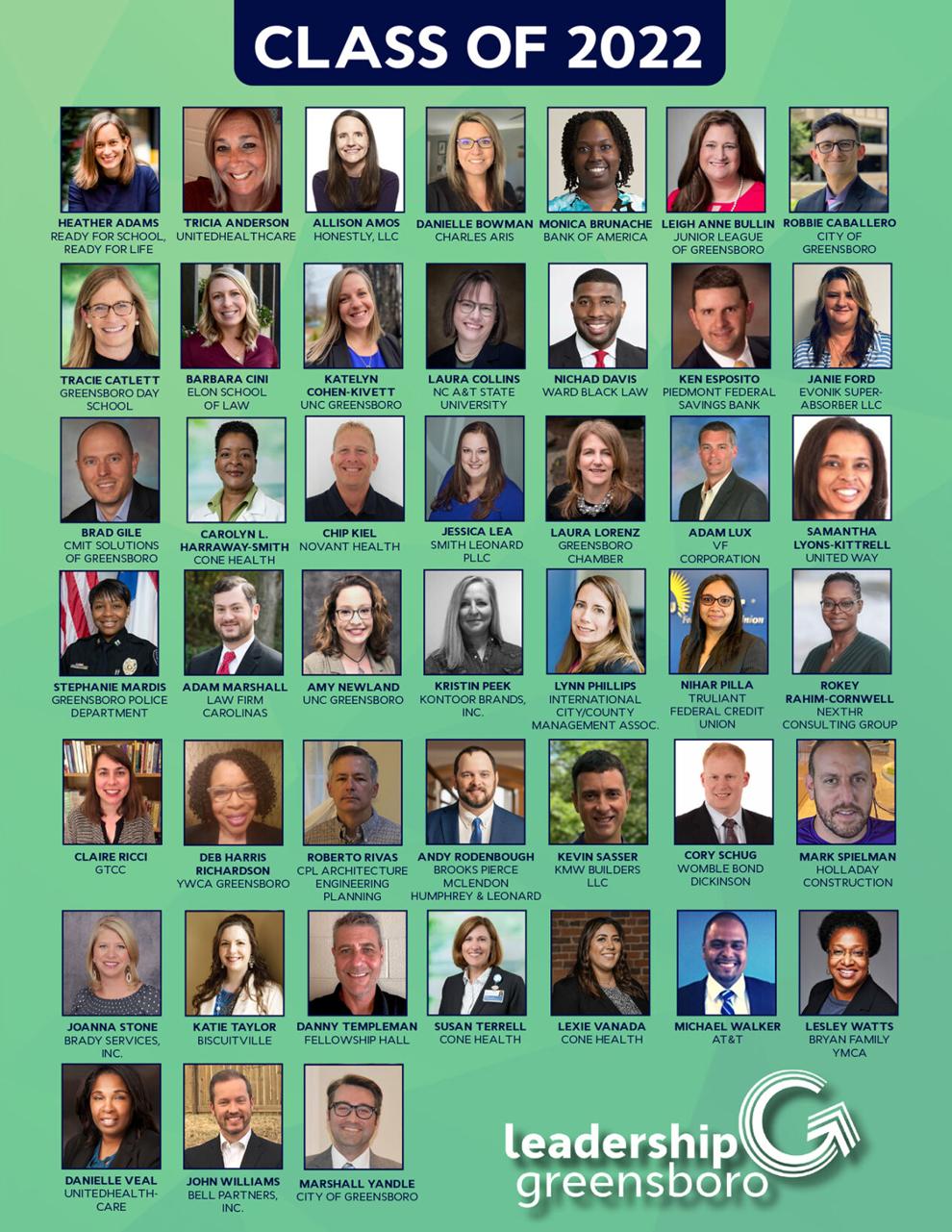 The program has a new facilitator this year, Dr. Tonya Hargett. Hargett is the director of research compliance and ethics and research integrity officer at N.C. A&T State University. She is also a 2016 graduate of the Leadership Greensboro program.
"We are thrilled to welcome Dr. Hargett as our facilitator for Leadership Greensboro," said Tracy Myers, executive vice president of member engagement for the Chamber. "Her expertise and her experience in the program provide her with a unique perspective that is sure to benefit our participants."
The new class of leaders from across the city will engage in two days of orientation and team building this week and continue with monthly program days through May 2022.
Leadership Greensboro is a three-part, nine-month leadership development program.
Among its highlights is a retreat with the Center for Creative Leadership featuring customized, innovative curriculum and executive coaching sessions.
The program provides the city with an ongoing source of diverse leaders who are committed to serving as catalysts and sustainers of positive change for the quality of life in the greater Greensboro area.
Each program year concludes with participants pitching projects that solve a community problem. Some of the most high-profile initiatives that started as LG projects include the Greensboro Children's Museum, the Guilford Education Alliance's Teacher Supply Warehouse and the Guilford Nonprofit Consortium.
Volunteer leadership is a key component of the LG experience. The monthly program days are designed by alumni from the previous year.
Due to COVID-19, this year's class will experience a hybrid program model. The program will include virtual program days, self-directed and asynchronous activities, and small group social opportunities.
Additionally, the Leadership Greensboro Alumni Association hosts a series of community service days in the summer months.