HPU's Personal Development Expert in Residence Mentors Students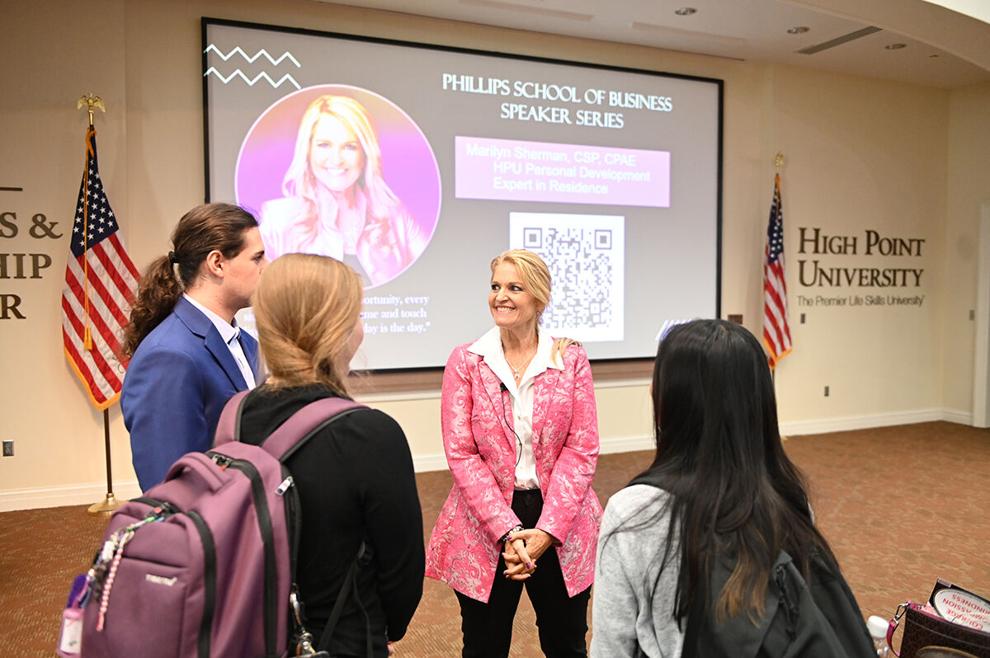 HIGH POINT, N.C., Nov. 2, 2022 – High Point University's Personal Development Expert in Residence and Hall of Fame speaker Marilyn Sherman mentored several student groups on Oct. 27.
During her time on campus Sherman spoke to freshmen during two different sessions of the President's Seminar on Life Skills and led a business class on how to overcome doubt.
She also introduced master's students to front-row leadership, the act of getting involved instead of watching from afar.
During the freshman seminar, Sherman discussed the different metaphorical seats in life that you can choose.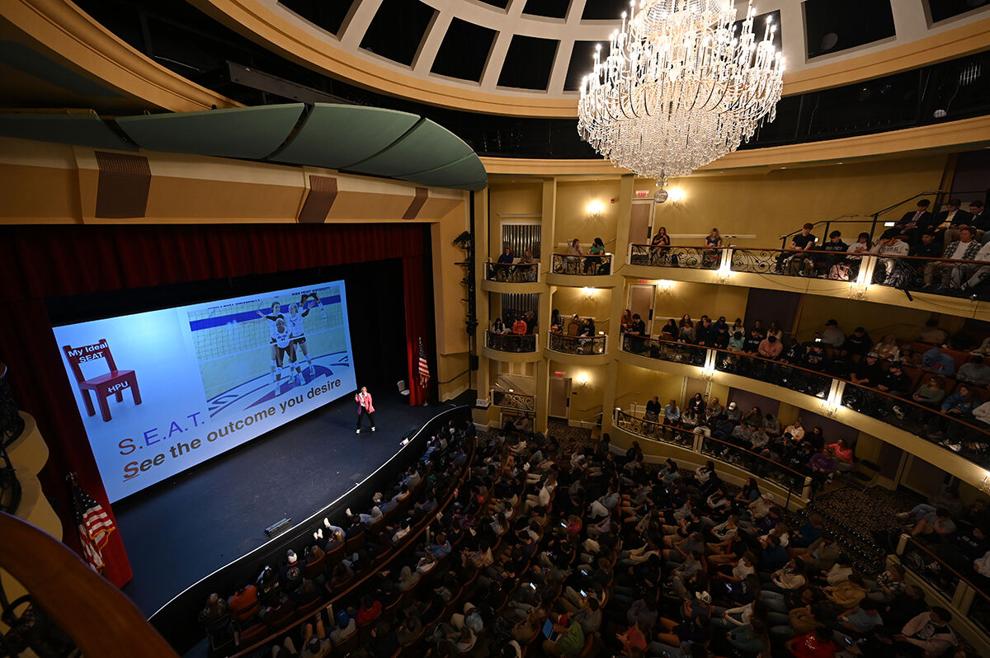 "If you don't like your seat in life, you have two options," said Sherman. "The first option is to get out of the seat you don't like and get a new seat. The second option includes circumstances in life that we cannot change, and that means shifting your perspective on that seat."
She went on to encourage students to change the popular phrase "up until today," to, "from this day forward," in their lives. Sherman says the latter phrase is a way of improving yourself for the present and future.
Sherman's key teachings stuck with freshman Zaria Owens.
"Marilyn Sherman had a lot of great points," said Owens, an exercise science student from Hampton, Georgia. "I love that she shared how to evaluate how you are now and then knowing you have the ability to improve yourself while striving to do more with your goals and not limiting yourself. I wouldn't be able to find this type of motivation anywhere else, and I am able to improve myself as I listen to our HPU innovators' stories."
In her mentorship, Sherman shared personal stories, on focusing on a time where she should have talked less and listened more. She encouraged students to adopt that practice.
"Become inquisitive about the people you encounter," continued Sherman. "Ask questions to get to know the people around you. You are in an extraordinarily unique environment, and the people that you meet in the next four years will be lifechanging for you. Allow yourself to be open to these new friendships and relationships by being interested."
About Marilyn Sherman:
Sherman has more than 25 years of experience in motivational keynote speaking and is the author of four motivational books, including "Is There a Hole in Your Bucket List?," "Why Settle for the Balcony? How to Get a Front-Row Seat in Life" and "Front-Row Service."
This isn't Sherman's first time mentoring students on campus. Last year, she spoke to the inaugural group of female students as part of the Strickland Women's L.I.F.T. Fellowship Program.
HPU has a full lineup of global leader visits throughout the fall semester. You can read more about the Access to Innovators Program and past innovators here.