We are excited to announce the Grand Opening of the Harvest Market on Thursday, 10/13/22. The celebration will be held from 10am – 2pm in the West Salem Shopping Center at 635A Peters Creek Pkwy, Winston Salem, NC 27103.
Winston Salem, N.C., October 12th, 2022 – Beginning October 13, 2022, neighbors of the Downtown community and the broader Winston-Salem area will be able to shop for fresh produce, locally and nationally produced grocery items, and chef curated deli items at the new Harvest Market.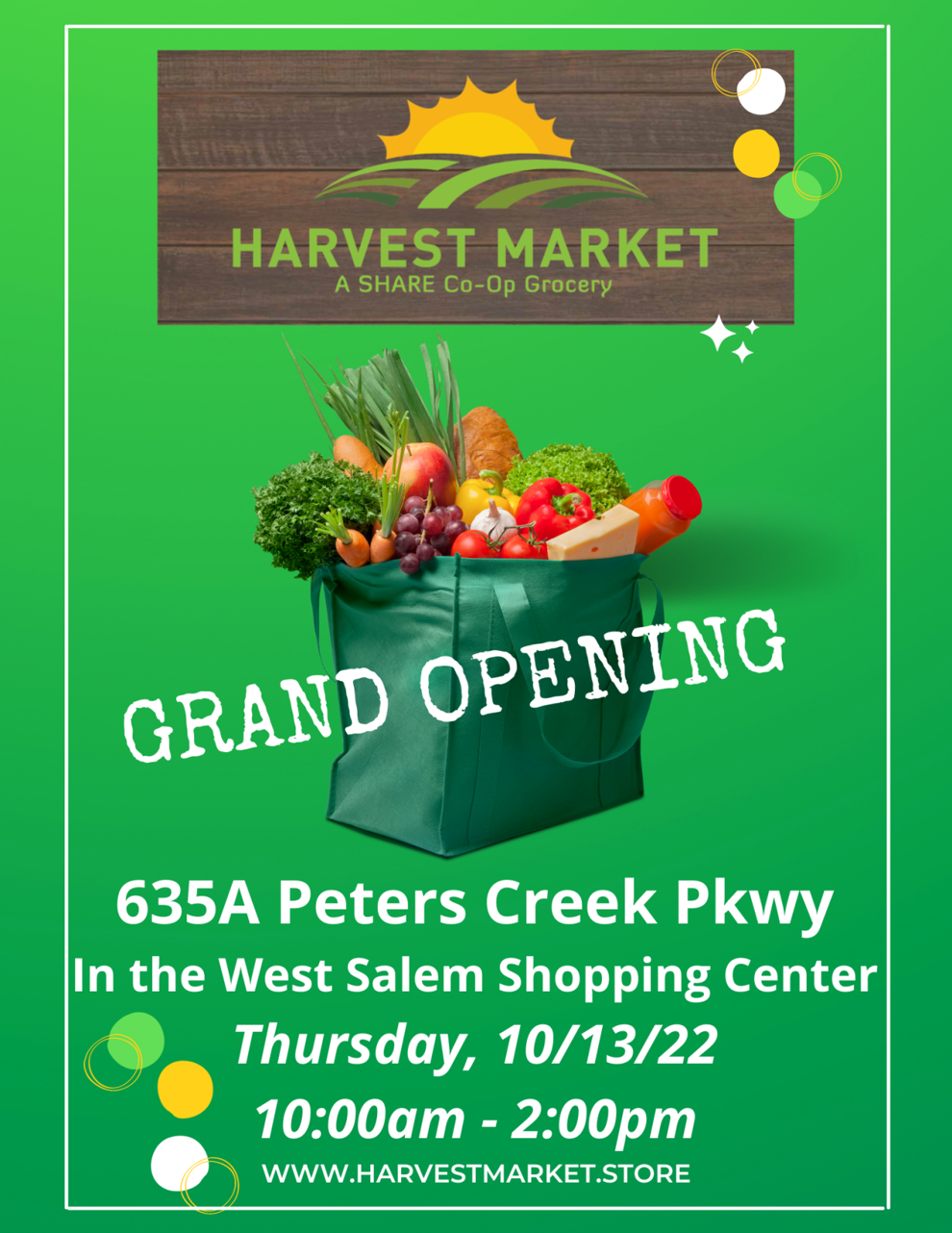 The new store, located at 635A Peters Creek Pkwy in the West Salem Shopping Center, will open to the public at 10 a.m. on October 13, 2022. The Grand Opening celebration will take place that same day from 10:00am – 2:00pm. The Harvest Market grand opening will include giveaways, music, coupons deals, and tours of the new store, which will soon be open daily from 8 a.m. until 8 p.m.
"We are a community food market that turns no one away. We strive to provide the best food choices and education on food and nutrition to help grow healthy and thriving individuals."
The new store features an extensive product assortment, including in-store fresh-cut fruit and a wide variety of affordable and easy "grab-and-go" options to help make any meal easier. Customers will have a large selection of organic, gluten-free and plant-based items to choose from, including many brands specializing in wholesome and organic products made with no artificial flavors, preservatives or synthetic colors.
To make shopping easier for customers, the Harvest Market will have friendly knowledgeable staff to help customers navigate the aisles, answer any questions, and make suggestions on product selection. There is also the option for customers to place an order online (www.harvestmarket.store) with the click of a button while experiencing the same low prices and fresh food items they receive in the store.
The store is proud to also offer a wide variety of great local offerings, such as: Jugo Bar Juice, Bingo Bango Soda, Ruby G's Bakery and Eye on Better Health Irish Sea Moss.
About Harvest Market
Harvest Market was first conceptualized by the SHARE organization and has come to fruition through a host of generous donors, community support, and committed Member-Owners. For more information, please visit www.share-ws.coop
The market is a co-op grocery store that is grounded by a set of unique assets that distinguishes it from other local and national grocery chains:
1.     Serves as a centrally located and accessible food source for the local community
2.     Showcases locally branded products from farmers and food industry businesses
3.     The only full-size co-op grocery store open to the public In Forsyth County
4.     Customers can share ownership of the Harvest Market by becoming a member of the SHARE Cooperative