Greater Gift And Atrium Health Wake Forest Baptist Present Sculpture Dedicated to Clinical Trial Participants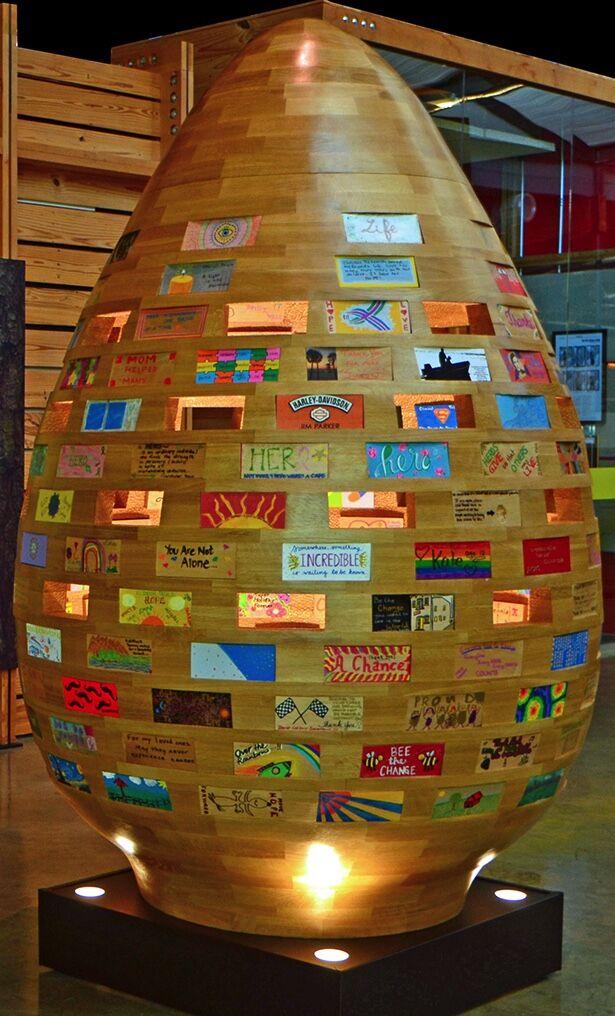 Greater Gift, a nonprofit organization in Winston Salem dedicated to raising awareness of clinical research and the value of clinical trial participants globally, and Atrium Health Wake Forest Baptist Health have installed a new sculpture whose vision and message is inspired by the public health value created by clinical trial research.
The sculpture is the third in a series, The Hero's JourneyTM, that was funded by Eli Lilly & Co. and created by artist John Magnan as a part of an effort to help raise awareness of the importance of clinical trials participation.
Each sculpture in The Hero's Journey™ series includes personalized wooden bricks from those involved in clinical research, including trial participants, patients, family and friends, medical teams and caregivers. More than 70 individuals from Winston-Salem and the surrounding region have contributed to the artistry of this symbolic sculpture. Each brick is an individual's artistic representation of what clinical trial participation means to them.
The Hero's Journey is used under license from the Joseph Campbell Foundation (www.jcf.org) and signifies the three phases of a journey: Departure, Initiation and Return. Departure is housed in Atrium Health Wake Forest Baptist Health's Biotech Place, in Innovation Quarter located in Winston-Salem and Return is housed at the Benton Convention Center.  The third sculpture, named Initiation, is over 8 feet tall, weighs 1,300 pounds and has 320 bricks installed, and has been place in the Ardmore Tower of Atrium Health Wake Forest Baptist Health. Visit www.herosjourneyart.com to learn more about this project and track on social media by using the hashtag #herosjourneyart.
The mark Hero's Journey ™ is used under license from the Joseph Campbell Foundation
About Greater Gift (www.greaterglft.org): Greater Gift is a non-profit organization, founded in 2010, with a mission to increase awareness of clinical research, especially among underrepresented communities, to improve global health. Greater Gift builds bridges with underrepresented communities to engage them in research, ensure equal representation in clinical research and to increase access to research as an option for medical care. Since its founding, Greater Gift has honored 130,000 clinical trial volunteers by making donations of vaccines and meals to children in need in their honor.
Atrium Health Wake Forest Baptist (www.wakehealth.edu) is a pre-eminent academic health system based in Winston-Salem, North Carolina and part of Atrium Health Enterprise. Atrium Health Wake Forest Baptist's two main components are an integrated clinical system – anchored by Atrium Health Wake Forest Baptist Medical Center, an 885-bed tertiary-care hospital in Winston-Salem – that includes Brenner Children's Hospital, five community hospitals, more than 300 primary and specialty care locations and more than 2,700 physicians; and Wake Forest School of Medicine, the academic core of Atrium Health Enterprise and a recognized leader in experiential medical education and groundbreaking research that includes Wake Forest Innovations, a commercialization enterprise focused on advancing health care through new medical technologies and biomedical discovery. Atrium Health Wake Forest Baptist employs more than 20,000 teammates, part of Atrium Health's 70,000 teammates across the Southeast. Atrium Health Wake Forest Baptist provided a record-setting $596.2 million in community benefits during the 2020 fiscal year, which includes unreimbursed care, charity care, education and research, and community health improvement. Follow us on Facebook, Twitter and Instagram.