Domino's CEO Kicks Off the New Year Mentoring HPU Students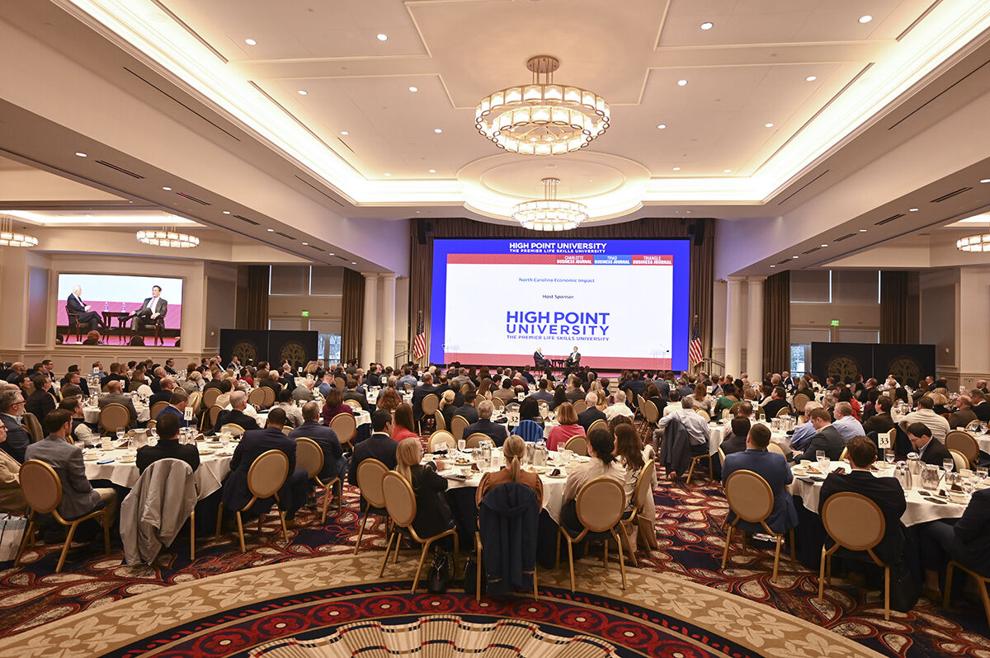 HIGH POINT, N.C., Jan. 18, 2023 – It's a new semester on High Point University's campus, and HPU's Corporate Executive in Residence Russell Weiner, CEO of Domino's, kicked it off with a day of mentoring students and local business leaders on Jan. 12.
Weiner joined HPU President Dr. Nido Qubein during the North Carolina Economic Impact Event for a Q & A session in front of a packed Conference Center on HPU's campus filled with business leaders.
He then spoke to students from all majors about personal and organizational transformation during the Life Skills Seminar in the Callicutt Life Skills Theater. He shared Domino's success story from low performance and sales to breaking record sales and changing the company for the better. One of the lessons he shared was about breaking tensions in order to amplify the power of your message.
"The way that I think to come up with big ideas is through the process of tensions," said Weiner. "It's a genuine coiled-up discomfort that holds a lot of power if you released it. If you can come up with a message that addresses a tension in your brand, in society, or even better when they are together, and if you can break that tension, that is kind of a tailwind for you."
Weiner went on to share two types of tension.
Brand Tension: When your brand isn't performing well or being received positively.

Culture Tension: When society is not able to trust companies because they do not tell the truth. That's where it takes one company to be willing to share the truth and be transparent.
"I love how he used the word 'relentless' to describe the people you should surround yourself with in any career," said Marshal Burns, a senior accounting major. "You surround yourself with people who are willing to take risks and even knock on people's doors late into the night to get things done. One of the videos he showed us was of the head chef at Domino's going to people's houses at night delivering pizza for their marketing videos which showed their dedication to the company."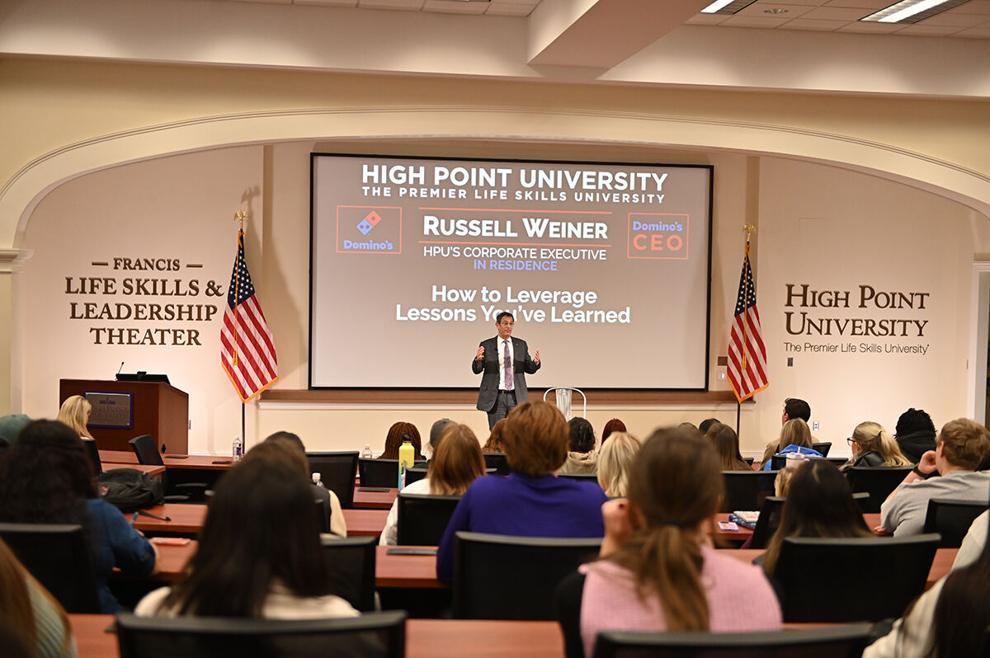 He also spoke to communication and business leadership graduate students on how to respond to crises and how they can leverage the skills they learn through their graduate degree.
There are several students he has built a relationship with throughout his time as an innovator and mentor at HPU. Senior Lauren Strickler is one of those students.
"Being able to have built a connection with Russell Weiner over the past year has truly helped shape me as an individual," said Strickler, a business administration major from Newburyport, Massachusetts. "Being able to continually learn from such an impressive leader is something I treasure here at HPU. Knowing that I have a mentor in him, even after I graduate and move into the real world, is a unique opportunity, and it is one of the greatest ways that HPU is able to differentiate themselves and their students."
In his role as CEO, Weiner oversees the global centers of excellence teams responsible for marketing, operations, store growth and development, franchise relations, analytics and insights, and e-commerce in the U.S. 
Weiner is one of many global leaders that comprise the Access to Innovators Program at HPU.