DANVILLE, Va. — As Nevadan emissaries recovered from jet lag Thursday morning following a transcontinental pilgrimage from Sin City to the River City, Danville too would take a step toward recovering from 14 years of privation and identity crisis.
Officials from Caesars Entertainment, Marnell Companies and the City of Danville gathered at the Institute for Advanced Learning and Research (IALR) Thursday morning for a ceremony revealing the final renderings of the 18-story luxury high-rise resort casino to be constructed in Schoolfield, signifying its design process through the lenses of both Caesars Palace and the historic Dan River Mills, and exploring its myriad impacts of the casino on the city and its entities.
"This is a milestone moment," said Danville Mayor Alonzo Jones. "We are confident that Caesars Virginia will honor the old Dan River Mills Schoolfield site and become a pillar of pride for Danville and tis people."
Following 68 percent support exhibited by the voters of Danville last November, a number Virginia Del. Danny Marshall (R-14) called "a pretty strong showing," Caesars Entertainment has been hard at work developing plans for Caesars Virginia, which will include 500 hotel rooms, a state-of-the-art casino floor, Caesars Sportsbook, World Series of Poker Room, new restaurants and entertainment offerings, and much more.
"The voters who approved the project for establishing a Caesars casino in Danville have anticipated each step as Caesars Entertainment moves toward construction and opening," Marshall said at the ceremony. "We have reached another one of the milestones today."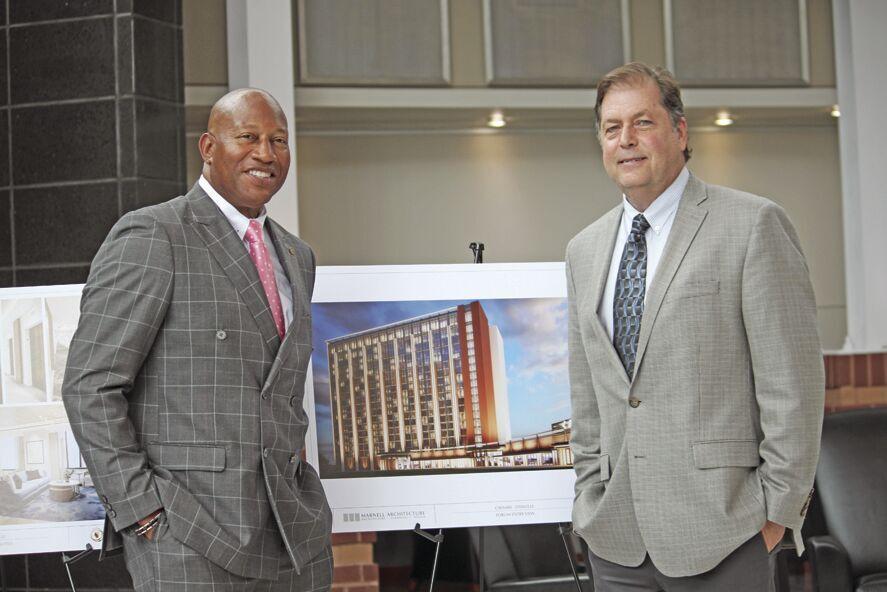 Marshall was the first person to bring the concept of a casino development to Danville City Council for consideration.
"Caesars Entertainment has listened to the ideas of local citizens in making some of the decisions and has worked to incorporate some of those historic aspects on the site. That shows respect for the community and a spirit of making the process a success for the region for Caesars," Marshall said. "Visitors will come to our region and discover that Danville has great things to offer as a community. That increase in tax base will help pay law enforcement, it will help pay for K-12 and other important public services."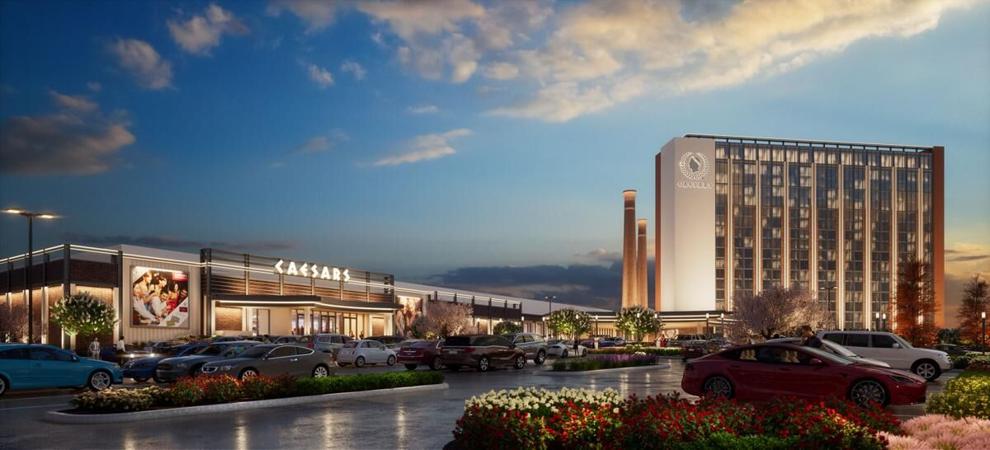 Addressing Caesars Entertainment directors, Marshall ambitiously stated, "This is going to be your most profitable location in the U.S."
Caesars Virginia plans include $500 million premier destination resort casino – more than $100 million more than initially anticipated in the development agreement, and 500 rooms inspired by local scenery – 200 more rooms than initially anticipated in the development agreement.
"There is a lot of excitement in the community because of the Caesars announcement," said Danville Industrial Development Authority (IDA) T. Neal Morris. A 44-year veteran of the Danville Police Department who served 32 years as chief of police, Morris' 13-year tenure on the IDA board solidified the promotion and facilitation of acquiring and selling the former Dan River Mills finishing plant in the Schoolfield neighborhood.
"Over the years at Dan River, we saw a 24-hour-a-day hubbub of activity," Morris said. "Again we will see this take place when Caesars opens up in 2023. We know that there is going to be a lot of attention in the Schoolfield area and that we will have entertainment, we'll have hotels, we'll have restaurants – there will be a lot of influx of people."
The casino resort is slated to open doors in the fall of 2023. Caesars will break ground in December 2021, bringing an influx of construction workers, Morris said.
"That is what we are really anticipating and excited about," Morris said. "The number of jobs and economic impact that this is having on this community already by purchasing the Schoolfield property and the money that has been provided to the city – the impact is being felt."
Impact on crime
Of the vocal 38-percent minority of Danville voters who opposed Caesars Virginia during the 2020 General Election, the prevailing gripe cited was and remains a fear of increased crime rates within city limits.
A November 2019 study conducted by New Orleans-based Convergence Strategy Group, a third-party casino and resort planning service, longitudinally monitored crime rates in a dozen mid-size cities including Dubuque, Iowa, Monticello, New York, and Metropolis, Illinois, before and after a casino sites were established in the city.
"From a crime perspective, there were no impacts on jails whatsoever," author Scott Fisher told the Star-Tribune on Nov. 20, 2019. Fisher concluded there were no examples of a single casino site impacting crime in a city the size of Danville.
Danville Police Department will also open its second police station at 2291 Memorial Dr. in March 2022.
"Caesars has done such a phenomenal job working with the city, working with us, to make sure everything is planned appropriately as far as our response to crime and our response to security," Danville Police Chief Scott Booth told the Star-Tribune on Thursday. "I think the community can feel comfortable that the police department is going to be prepared when we do start moving forward. We feel very good about that."
Danville City Manager Ken Larking, who petitioned Convergence Strategy Group to conduct the study, which also gave an early peek into gaming and tax revenue projections, is confident in the progress made by Caesars Entertainment to this point.
"I am very pleased with the way the Caesars team has been able to integrate their brand into the City of Danville's brand. It looks great," Larking said in reaction to the design unveiling Thursday. "I am looking forward to working with them as they go through the process of construction and getting it open."
Further impact
Danville leaders Thursday also told the newspaper they believe Caesars resort casino in Danville would have a major positive impact on education, sports and business in the city.
"I am really excited about this project, and in my mind I can see the opportunities that it's going to bring to Danville citizens," said Danville Community College (DCC) Interim President Dr. Muriel Mickles. "DCC is going to be able to provide the education and the training that is necessary for these jobs that are coming our way. We know many areas that we are going to need to look at to make sure that there are employees who are ready to step into that field."
Hospitality and skilled labor were immediately identified as areas of focus for Danville, Pittsylvania County and Halifax County students to segue into the workforce in the casino industry.
"We are ready, willing and able to work with this company to help them, to support them with employees and training for whatever it is they need," Mickles said. "I am excited."
A fellow in the local entertainment scene, the Danville Otterbots recently rounded off their freshman season in Danville. The wood-bat, collegiate Minor League Baseball franchise looks to offer family-friendly entertainment options immediate to the casino resort.
"To see something of this scale coming to Danville that will improve quality of life, create more jobs, more revenue, more entertainment options and more opportunities for us, the people who inhabit this community, to get out and have fun and spent time as a community, I could not be more excited," said Otterbots General Manager Austin Scher. "I think I speak for the entire organization when I say we as the Otterbots could not be more excited."
For Scher, American Legion Stadium at Dan Daniel Park is a community gathering space. After attending Thursday morning's ceremony, Scher was confident that the mission of Caesars Entertainment would impact his own bottom line.
"The reason that we exist as a baseball team that focuses on community first more than baseball, is to improve quality of life," Scher said. "It's to provide additional money-making opportunities for our students over the summer, our teachers over the summer, for folks that need additional working hours. It's to provide entertainment to kids as young as six months to adults as old as 105."
From an entertainment perspective, Scher sees the casino as the opposite of competition. So does IALR Executive Director Mark Gignac.
"Caesars is a humungous financial investment to the community," Gignac said. "I see it as another key thing that would highlight Danville."
IALR is renowned for its state-of-the-art conference center, which features professional board rooms and a tiered executive auditorium. Caesars Virginia will see 40,000 square feet of meeting and convention space.
"We also are a conference center, and we hope that having a casino in the town may draw some things to the region that maybe we wouldn't have say we didn't have the nightlife entertainment," Gignac said. "It will compliment us. I don't see it as competition for our conference center. I see it having a tremendous impact on the community."
The site
The Schoolfield site is a brown site, not a green site. This means an existing property will be redeveloped and may be contaminated with a hazardous substances, as opposed to initiating a new construction in a rural area which has not previously been built on.
"It was the largest textile mill in the world on that site, so there's a lot that's there existing that has to be demoed before we can start construction," said Robert Livingston, senior vice president of development for Caesars Entertainment. "The first thing that is going to happen – that water tower is going to be coming down next week."
The innately tricky topography of the site makes for both challenges and unique design opportunities.
"Every site brings new challenges, and this site has a lot of challenges that resulted in a lot of good solutions for the customer experience and the operations of this building," said David Howryla, president of architecture at Marnell Companies, the same firm that designed the Bellagio Hotel & Casino in Las Vegas. "There is a very large drop in terrain out towards the river and we use that to our benefit for multilevel – providing great service from below and access to the team members, and have a seamless behind-the-scenes service unlike many other facilities."
A dual-level parking garage and gaming floor will connect to the 18-story hotel tower, making it the tallest building in the City of Danville. At just under 200 feet tall, however, the tower will still not reach the 220-foot trio of smokestacks, dubbed "the Three Sisters."
"As we looked at the initial design, we embraced the three sisters," Howryla said. "We think they are the best element on the site and an icon for the city."
The Three Sisters will serve as the focal point of the resort, sitting 250 feet away from the building. An outdoor entertainment forum will be constructed between the smokestacks, themselves illuminated at night to become a conspicuous fixture of the Danville skyline.
"Everything on the plan is based on a focal point to the three sisters and how they engage in your experience there," Howryla said. "All of the hotel rooms focus to it, the entrance into it and out of it focus to it."
Jones left the residents of Danville with a joke on the subject.
"To all of the mothers, wives, sisters and girlfriends," he started. "When your husband, boyfriend or son says he's going to hang out with the Three Sisters, he's talking about the smokestacks."
As a nod to history of the original Caesars Palace resort in Las Vegas, nuanced Caesars branding is with detectible with the porte-cochere's cantilevered form, Howryla said. The large building furnishes a soft color palette with subtle Caesars branding and exposed brick wherever possible.
"The original building does not suit well for a casino or a hotel," Howryla admitted. "We are going to use elements like the Dan River Bell in the entertainment forum and introduce the forming of the tower based on some of the forming of the building out there and how it was designed with a really strong grid pattern. We have also executed that into the hotel itself."
Howryla added, "A lot of buildings are done where there is just a façade at the front, but this has a real 360-degree view."
The design story
The Caesars Virginia design process started in January 2021. Livingston identified a pair of principal questions asked in the design process.
"How do you blend the iconic Caesars Entertainment with the charm of this Southern city?" he asked. "How do you do that and pull it off?"
The casino will feature more than 1,400 cutting-edge slot machines and table games; Caesars Sportsbook, providing a best-in-class sports betting experience; and a World Series of Poker (WSOP) Poker Room, a live poker room named for and carrying the spirit of the legendary World Series of Poker with 25 tables. 
"We're going to host, right here in Danville, Virginia, a World Series of Poker circuit event," Livingston said. "The winners of the big event here in Danville will go on to participate in a finale to the circuit event that's in Vegas. It's very exciting to be able to say we're going to host one of those events here."
The casino will also feature 40,000 square feet of meeting and convention space with an entertainment venue that can accommodate up to 2,500 guests; new restaurant and bar concepts; 900 construction jobs and 1,300 new operational jobs.
"I am excited to tell you that Gordon Ramsey will have his name on a couple of those restaurants," Livingston said. "Gordon Ramsey is one of the hottest names out there – maybe the hottest name."
While the façade pays homage to the rustic exterior of the Dan River Mills finishing plant, the hotel's interior suites more closely resemble the iconic Caesars Palace Hotel and Casino in Las Vegas.
"Caesars has been working on the Caesars branded room, and this has been applied to the Danville module and room bay. Real modern, clean, comfortable suites facing the Three Sisters," Howryla said. "It is one of the best in class. There may be additional hotel rooms, additional restaurants, additional entertainment as it grows."
The simple elegance of the structural design is no indicator of the difficulty of this casino site, according to Mark Schlang, senior director of design and construction for Caesars Virginia.
"It's a complex project. We want to exceed your expectations as far as what we're going to deliver as a project," Schlang said. "The design process is an ongoing process for us. We want this to be something that the city is proud of."
Livingston echoed Schlang's sentiment.
"We have this iconic brand, Caesars, that we have to live up to, and then we have this rich history of Danville, Schoolfield and the Dan River Mill – we got to blend all of those things together," Livingston said. "I hope you'll see that we've done that."
The resort will house a spa, illuminated ground-level pools and fitness center.
"Caesars Entertainment has a really talented design and construction team," Livingston said. "The biggest thing we had to do was listen and learn about this community. I think we've done that. We look forward to making you proud as we develop and build this casino."
Anthony Carano, president and chief operating officer of Caesars Entertainment in Las Vegas, said he is confident the Caesars Virginia team will fulfill Livingston's promise.
"Caesars Virginia will be an economic driver for the region, both as a tourist and entertainment draw and through the more than a thousand good-paying jobs the resort will create," Carano said. "The people of Danville have entrusted us to build a world-class resort, and we look forward to proving that trust was well founded with an incredible resort worthy of the iconic Caesars brand."
While he too lives in Las Vegas, trips to Danville remind Livingston of his home in Oxford, Mississippi.
"The Southern hospitality that we have received since we've been here has been amazing," he said.
As a Danville native, Jones cannot disagree.
"Over the course of the last two years, myself and city council have taken great, great care to develop plans," Jones said. "This council has worked tirelessly in closed meetings. City council and staff have done a great job to develop plans alongside of Caesars Entertainment to create a resort that will positively impact our community through new tax revenue, new jobs, partnership opportunities with local businesses and tourism dollars."
The former mayor would close with his own notion of pride.
"It's a great new day in our region," Saunders said. "Look at the jobs coming to this area. Look at the money that is being invested. I am proud that they chose Danville."