The Hemp Source in Winston-Salem in offering a full-blown dining experience for those looking for a different dining experience.
The local, husband and wife-owned CBD and hemp business host CannaDish: The Brunch Edition on Sunday, May 1, 2022 beginning at noon.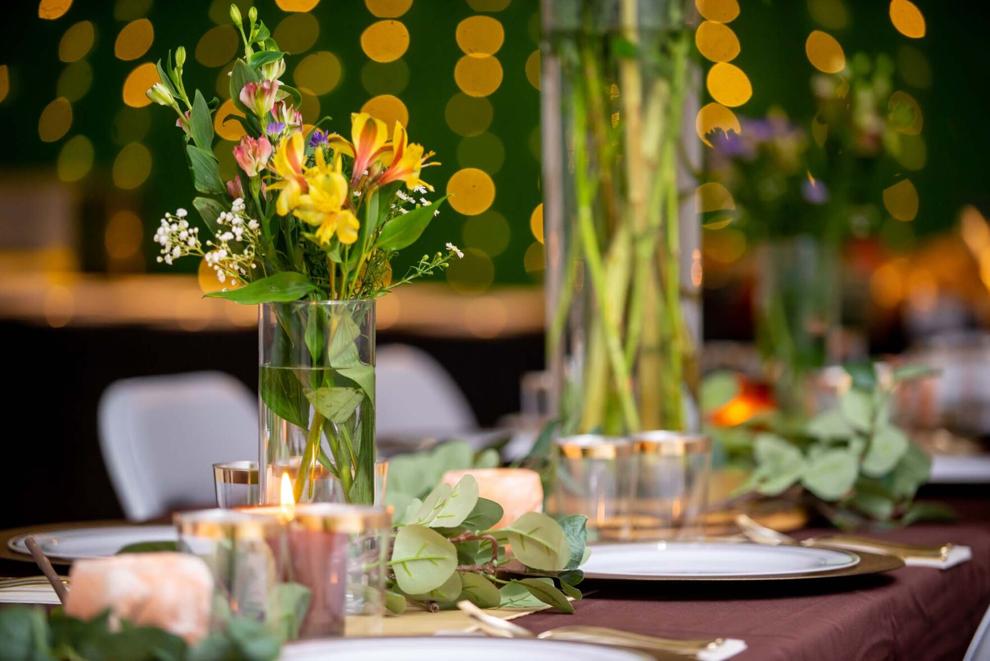 The brunch, which is for those 21 and up, will feature a four-course infused meal, complete with drinks, created by a private chef and offering live jazz music from BandClazz. Tickets are $70 for individuals and $120 for couples.
Co-owner Jay Galloway said brunch items would be infused with the business' CBD and legal strain of THC from its Delta 8 products.
"It's a very intimate setting. It's a nice little kickback where you can vibe out and feel good while you eat good, as well," he said. "You have to look at this as an experience. Where else can you go and get a cannabis-infused meal? Most people are watching shows on Netflix where they're cooking with cannabis and wishing they could go experience that. We can pull it off and we can say that we are the first of our kind around here, that we know of, doing so."
The brunch, provided by Chef Chop of Big Apes food truck, includes dishes such as an avocado and herb crostini topped with bruschetta, feta cheese finished with a balsamic glaze; Hennessy and white chocolate chicken and waffle minis with arugula finished with a strawberry compote; and Charleston-style grits topped with seared scallops, sautéed shrimp, onions, peppers with a Cajun cream sauce.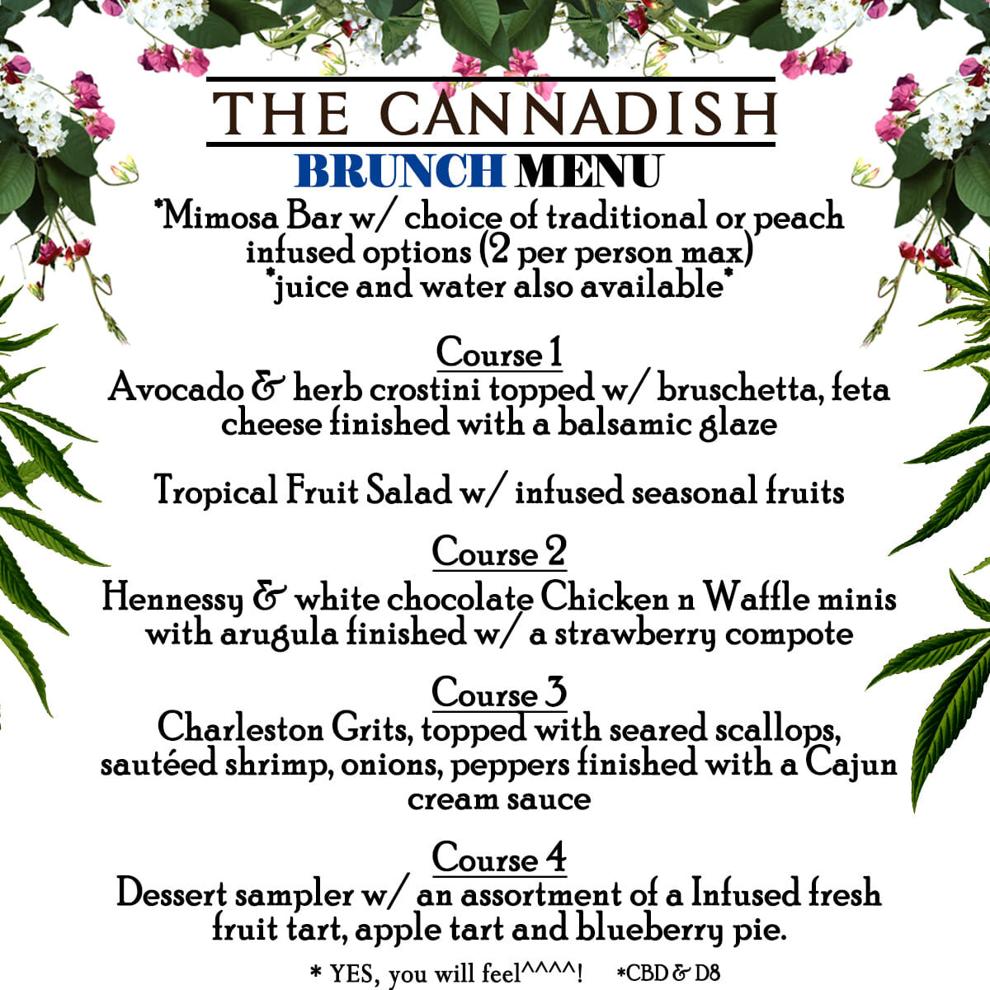 "It's really tough to please everyone when it comes to menu selection. You have people who don't eat red meat or don't eat pork. We figured brunch wasn't meat-heavy but can cover the basics," Galloway said. "In general, most people are good with seafood and chicken."
While the goal was to find the perfect marriage between food and cannabis, Galloway said it wouldn't mean a thing if the food wasn't good. He credits the success to Chef Chop.
"Before entering into the infused portion, we wanted to make sure the food sounded and looked good. The infusion piece is actually a lot easier since we know all the ways we can break it down," he said. "The first thing we needed to do was make the meal appetizing enough to get people interested in going. Having him on board just makes things easier for us."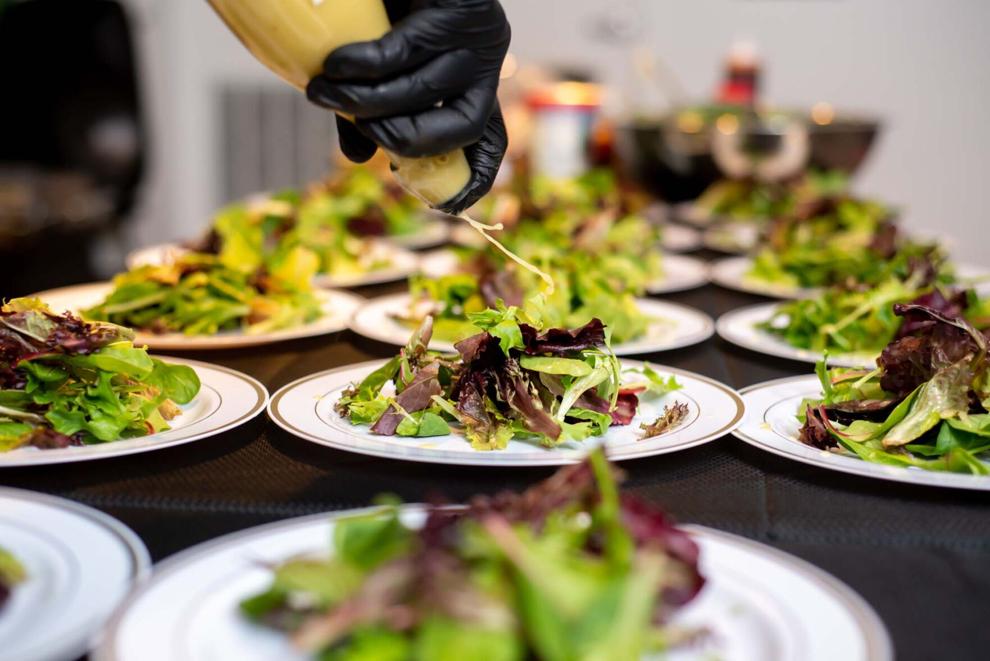 Galloway said they'd had previous food-infusion events to show customers and residents different ways to consume their products.
"It was really just to think outside the box and show people different ways to consume their CBD products. We wanted to make it an experience where people could see they could have it in their food, drink or any kind of way," he explained. "We also wanted to give people in the area something different to do. Something like this wasn't going down in Winston-Salem, so we wanted to make sure we offered it and it was safer than having your cousin putting something in a meal at home."
Now on to its third CannaDish event, this will be the first CannaDish event since the COVID shutdown. He said the biggest challenge during the previous events was expressing to people exactly what it was. The location, located at 690 Jonestown Road, has held similar events before including Puff and Paint, where people come in, purchase products, and use them in-store while painting, similar to the popular Sip and Paint. They've also hosted Centered Infusion Yoga, where participants drink CBD tea to relax before partaking in a yoga class.
"It was still kind of taboo to a lot of people. This go-round, it has been a lot easier. Not just because of us sharing more information about the products and what they're good for, but it seems as if it's kind of becoming publicly and more widely accepted. People are a little more open to doing an event like this," Galloway said. "More athletes are talking about CBD and hemp products and it makes it a lot easier."
Galloway said feedback from all of the events has been pretty good. He said he finds a lot of folks think that "if you cook with cannabis, that your food is going to taste like cannabis."
"We try to make it known that you can infuse it in your food without the heavy, bitter or earthy taste that you'd get from the cannabis."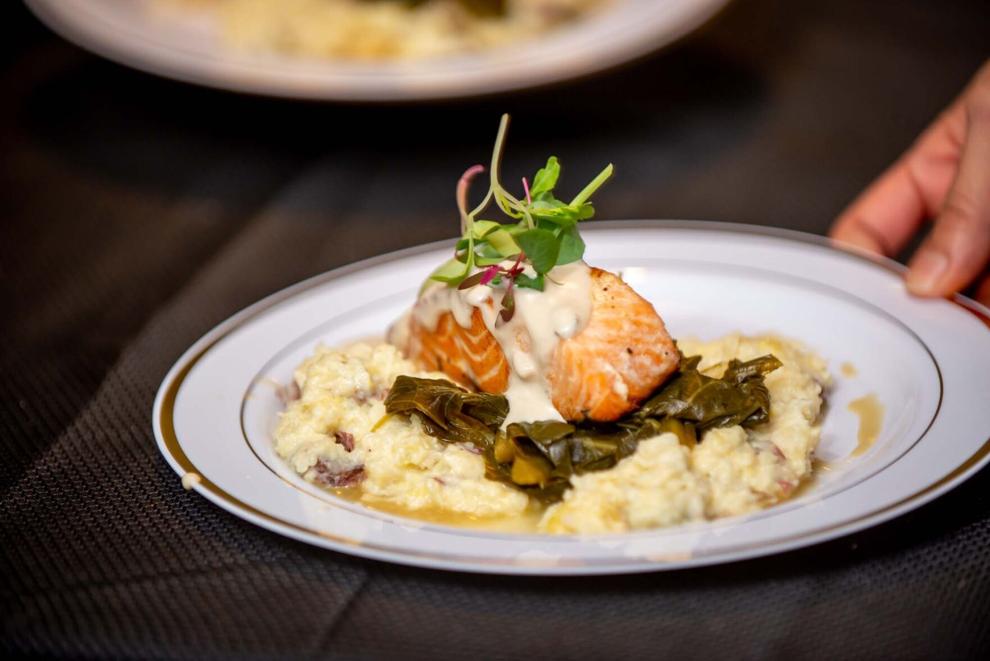 Galloway said that those who attend the event could expect a chill, cool vibe with a family-style dinner. He said that the goal is not to get people "high out of their minds" but they can expect to start feeling the effects halfway through the second course, but it won't be overwhelming.
"It will force you to mix and mingle with people that are around you. We try to make it as interactive as possible," he said. "It's an intimate setting with like-minded individuals that are just laid-back. We want you to come and enjoy yourself, with no mess, in a safe environment."
Galloway said that either way, attendees would leave better than when they came.
"You will probably leave here feeling really cool, chill, and will probably get the best sleep of your life that night. And if you did come in with some pain, you'll probably be pretty good on your pain levels, as well."
For tickets or more information, visit www.thehempsourcews.com/thecannadish.