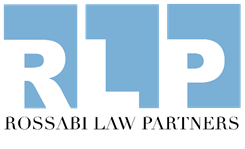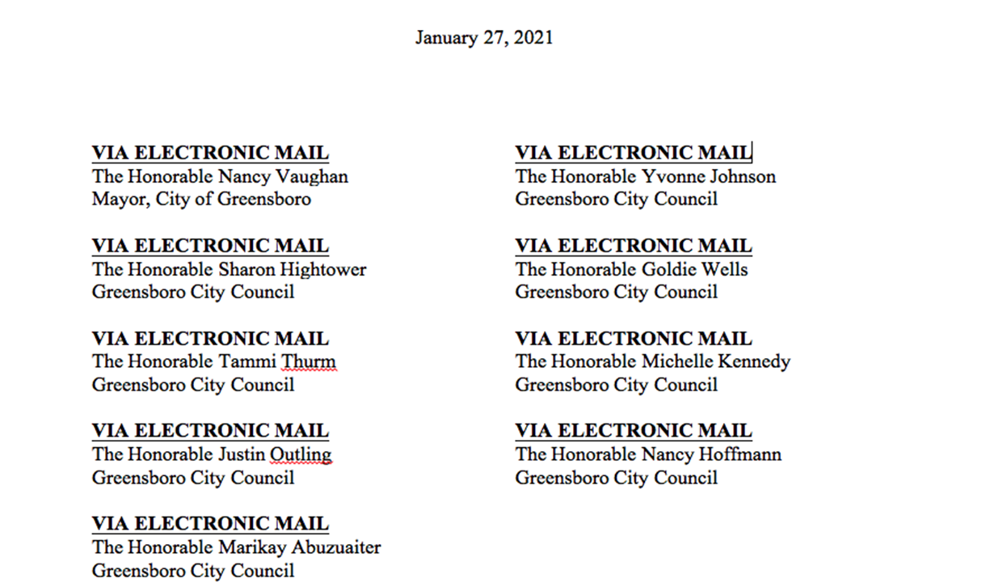 RE:      New Restaurant and Entertainment Ordinance
Dear Mayor Vaughan and Council Members:
        Our firm represents restaurants and clubs in Greensboro and I am writing to express our displeasure and strenuous opposition to the recent efforts by Mayor Vaughan and other council members to enact a new restaurant and entertainment ordinance.  The basic premises posited by Mayor Vaughan that there is a need for this ordinance due to violent crime being connected to establishments that serve alcohol is blatantly false and based on no statistics.  In addition, Greensboro's last efforts to enact such an ordinance were equally baseless, unconstitutional and forced to be abandoned as a result of the threat of lawsuits by "entertainment" facilities.  Moreover, to the extent that this proposed ordinance seeks to exempt (as it did in 2014) the Coliseum, the Tanger Center, college facilities and government operated facilities, it, too, will be unconstitutional and a blatant mistake again by Mayor Vaughan and a majority of the Council. 
          In a prompt response to Mayor Vaughan's falsely premised request for this ordinance during the January 5, 2021 Council work session, strong opposition was identified by the Greensboro News and Record (see attached Exhibit A), The Rhino Times (see attached Exhibit B at Bottom), Councilwoman Marikay Abuzuaiter (see video of January 5, 2021 work session) and Councilman Justin Outling (see attached Exhibit C at Bottom). 
            To the extent that this "new" security ordinance is aimed at fighting and/or deterring violent crime, I suggest that this Council focus on supporting the Greensboro Police Department and efforts and suggestions of Chief James and rank and file police officers.  Chief James has publicly made it clear on numerous occasions that the No. 1 cause of violent crimes and murders is the high concentration of poverty and lack of economic development in Greensboro.  During Mayor Vaughan's tenure, the majority of this Council has done little to promote economic development and has done virtually nothing to support the Greensboro Police Department.  The cause of this drastic increase in homicides and violent crime lays at the footsteps of this Council, not at hard-working business owners. 
            Many Greensboro citizens have been calling on this Council to hire more police officers and to increase the police budget, which has been neglected for years.  If you truly want to help this city, put your money where your mouths are and concentrate on economic development and strengthening the police, rather than making blatantly political, pandering statements during an election year.The evidence is contrary to Mayor Vaughan's statement that establishments that serve alcohol are the cause of the increase in homicides and violent crime.  I suggest that the City not rush into a knee-jerk reaction that is not suited to the stated goals.  To the extent that this is simply a blatant election year ploy by Mayor Vaughan and other supporting Council members, shame on you.
            To the extent that there are "problem" establishments that sell alcohol, nuisance abatement law and Alcohol Law Enforcement agents are more than adequate to address such "problem" establishments.  The Greensboro Police Department has built evidence of these few "problem" establishments; however, this Council has rarely followed through with enforcement.  
            Finally, I write to assure you that if the City Council proceeds further with this baseless and unfounded attack on entertainment facilities (that have already been decimated by COVID-19 and its concomitant regulations), we will challenge any such ordinance in court and we will seek extensive PIRT requests to show, among other things, actual crime statistics for exempted entertainment facilities and non-entertainment facilities that are traditional havens for violent crime.